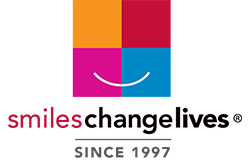 COCOA BEACH, Fla. (PRWEB) November 18, 2019
Dentalfone, headquartered in Cocoa Beach, FL, was honored by the international non-profit organization, Smiles Change Lives (SCL), at its 9th Annual Gini Awards on October 19, 2019, in Kansas City, MO for its contribution to the organization.
The Gini Awards are named in honor of SCL founder, Mrs. Virginia "Gini" Brown, whose vision and dedication has created a legacy of care for underserved children in need of orthodontic treatment throughout the nation. This annual event honors the many orthodontic providers, referring dentists, volunteers, sponsors, and board members who have gone above and beyond to support the mission of SCL. SCL works with over 800 orthodontic providers nationwide to provide braces to children throughout the U.S. and Canada who otherwise could not afford treatment.
Dentalfone embodies the spirit of this award. Dentalfone has been a long-time business partner of SCL. As a business partner, Dentalfone graciously provides SCL partner orthodontists with discounts on its marketing and website design services. Dentalfone donated a custom application to Smiles Change Lives to assist them in spreading the word about the great work they do. To view this app on your smartphone, visit https://www.sclapp.org.
Dentalfone's partnership with SCL allows participating orthodontists to treat more children by alleviating the financial concern associated with providing donated care.
About Smiles Change Lives
Smiles Change Lives provides access to life-changing orthodontic treatment for children from families that cannot afford the full cost of braces. Headquartered in Kansas City, the program has treated more than 13,000 children since 1997. With its origin as the Virginia Brown Community Orthodontic Partnership, Smiles Change Lives has emerged as the nation's leader in providing access to orthodontic care for qualified and motivated youth. For more information, visit https://www.smileschangelives.org.
About Dentalfone
Dentalfone is a leading provider of website development and digital marketing services for the dental industry. Dentalfone specializes in Hybrid-Responsive™ dental websites and search engine optimization (SEO). To learn more about Dentalfone or to request a consultation, call (855) 385-3663 or visit https://www.dentalfone.com.