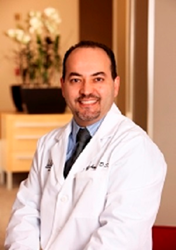 San Francisco, CA (PRWEB) November 11, 2016
Snoring, a common sleep problem, involves the vibration of tissues in the airway during sleep. Although the noise caused by snoring is its most obvious symptom to those nearby, the problems associated with snoring can be more far reaching.
"Snoring has been linked to sleep apnea, a serious condition in which breathing stops repeatedly during sleep. The repeated awakenings that result from sleep apnea during each sleep period are notorious for causing not only daytime fatigue but also higher risks of several health problems, including heart attack, stroke, and diabetes.", says San Francisco dentist, Dr. Ben Amini, Founder of CitiDent.
Furthermore, the conventional solutions to sleep apnea, such as CPAP, can cause major discomfort and are not always effective. CitiDent, a San Francisco dental practice, announces that they now offers innovative anti-snoring devices.
San Francisco dentist, Dr. Ben Amini at CitiDent, provides two newer dental treatments for snoring that are more tolerable and often more effective than conventional options. These treatments include palatal expansion, an orthodontic treatment, and an oral appliance known as TAP. Both options focus on keeping the tongue from collapsing backward into the airway, where it can obstruct breathing during sleep. With palatal expansion, this is achieved through permanently increased space in the mouth for the tongue. By contrast, TAP is a nightly solution that is personalized to the individual similarly to a custom retainer. TAP is comprised of two pieces and can be adjusted by the patient to keep the jaw in the forward position to the desired degree. According to research, the latest TAP device help eliminate snoring and aid in breathing in more than ninety-five percent of sleep apnea patients.
San Francisco dentist Dr. Ben Amini earned his dental degree at the University of California, San Francisco in 1996. Today, as a reputable member of several organizations in his profession, Dr. Amini continues to teach at UCSF School of Dentistry as an assistant clinical professor. Throughout his career, Dr. Amini has continued to complete educational programs in the latest dental technologies and techniques. Dr. Amini and his associate dentists offer a complete range of treatments, including gum disease treatment, root canal therapy, orthodontics, CAD/CAM single visit crowns, laser dentistry and much more.