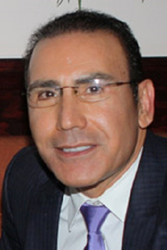 Van Nuys, CA (PRWEB) November 22, 2016
Hamlin Dental Group is now offering sleep apnea treatments. Sleep apnea is a common condition that affects millions. It can interfere with healthy sleep and increase the risk of serious health problems. Symptoms can often be hard to distinguish from those of other health issues. Proper diagnosis and treatment can provide significant symptom relief and help reduce associated risks.
Patients with sleep apnea often have shallow breathing while they sleep, and their breathing can pause thirty or more times an hour. These pauses can last a few seconds to minutes at a time. Most commonly, patients suffer from obstructive sleep apnea, which causes the airway to become blocked or collapsed during sleep. The person may snore loudly with periodic pauses before beginning again with a loud snort or choking sound. Sleep apnea can affect anyone but is most common in males, those with a family history of the condition, those who have small airways, and those who are overweight or obese.
Van Nuys dentist, Dr. Hamid Reza, and the team at Hamlin Dental Group are now offering treatments for patients who are suffering from sleep apnea. Oral appliances that are fitted by a trained dental professional are FDA-approved for the treatment. They are considered the first-line treatment for mild-to-moderate sleep apnea, and can be an alternative for those with severe cases who cannot tolerate CPAP therapy or need additional treatment.
Other sleep apnea treatments can include:

Lifestyle changes
Medication adjustments
Smoking and alcohol cessation
CPAP therapy
Surgery
Hamlin Dental Group offers comprehensive dental care. "Here at Hamlin Dental Group, an exemplary team of highly trained and dedicated specialists offer a wide range of general, cosmetic, pediatric, and orthodontic services for patients of all ages," the team says. "(They) are committed to providing gentle dentistry that will ensure your visit for your whole family is as comfortable as possible."
About Hamlin Dental Group
Dr. Hamid Reza is the founder of Hamlin Dental Group and works with Drs. Garemani, Yessaian, Koshkerian, Vafadar, Woo, Wang, and Aminian to provide his patients with preventive care, restorative treatments, periodontal treatments, orthodontic care, cosmetic dentistry, and endodontics. He is a member of the California Dental Association, the San Fernando Valley Dental Association, and the American Dental Association.