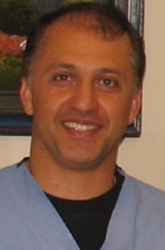 Torrance, CA (PRWEB) May 31, 2017
About three million Americans currently have dental implants, a half million people get implants every year, and fifteen million Americans have bridges that could be replaced by dental implants. Implants are the most reliable way to replace lost teeth, but they can still fail in up to ten percent of cases, according to a study that was published in 2005. Dr. Robert Mondavi, dentist in Torrance, comments on a new method designed to improve the success of the dental implants procedure.
Several things can lead to dental implants failure, including rejection, infection, mechanical problems, or poor connection with the bone tissue. In most cases, dental implant failure is associated with peri-implantitis. Peri-implantitis is an inflammatory condition that occurs in response to bacterial colonization. These bacteria live in oral plaque, and when the plaque accesses and builds up on the implants, the body responds with inflammation. The inflammatory process can damage the hard and soft tissues that support the implant, causing these tissues to break down and the implant to fail.
Researchers have tackled this problem using a special titanium alloy implant coated with titanium oxide, silver, and hydroxyapatite. This coating was shown to reduce bacterial growth 97.5 percent, effectively eradicating infection, improving the integration of the implants with surrounding tissue, and promoting healing. With this simple change, researchers were able to virtually eliminate the most common cause of implant failure and improve patient health and satisfaction. Study results were published in "Nanotoxicology."
"The field of dentistry is always changing, and because of that, I strive to stay up-to-date on leading-edge techniques and treatments," Dr. Mondavi says. "I'm always looking for ways to advance, whether it be from continued courses, other dentists, or hands-on experience."
Dr. Mondavi offers comprehensive dental care, including:

Dental Exam
Basic Dental Cleaning
Deep Cleaning
Night Guards
Sport Guards
Digital X-Rays
Fluoride Treatment
Dental Sealants
Invisalign
Dental Implants
Porcelain Veneers
Dental Crowns
Dental Bridges
Composite Fillings
Root Canal
Dentures
Full Mouth Reconstruction
About Dr. Mondavi
A top Torrance dentist, Dr. Mondavi is a graduate of the University of the Pacific in San Francisco, California. After graduating in 1993, Dr. Mondavi continued his studies through a variety of advanced courses, including advanced implant training, advanced cosmetic dentistry training, and oral bioesthetic form and function.