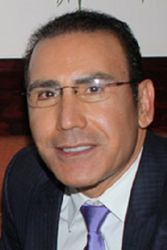 North Hollywood, CA (PRWEB) March 29, 2017
Hamlin Dental Group, multi-location dental office in North Hollywood, Van Nuys, and Northridge, is now offering laser dental treatments. Dental lasers are safe and effective options, and can be used alone or in conjunction with other dental treatments. Laser dentistry expands patients' options and can improve the overall quality of care.
Dr. Hamid Reza of Hamlin Dental Group offers other treatments as well, including dental extractions, breath control treatments, dental implants, smile makeovers, dental veneers, fixed dental bridges, emergency dental services, pediatric dental care, custom dentures, teeth whitening treatments, porcelain crowns and orthodontics. Laser dental treatments can be used with many of these treatments to improve their effectiveness.
Lasers use intense, highly focused light energy to shape or remove tissue. Dr. Hamid Reza, dentist at Hamlin Dental Group in Van Nuys, North Hollywood and Northridge, can use lasers to:

Reduce the pain and discomfort of oral sores
Remove excess gum tissue
Perform tissue biopsies
Expose impacted teeth
Treat gum disease
Treat infected root canals
Speed up teeth whitening procedures
Dental lasers offer many benefits. They reduce the need for dental anesthesia and may eliminate the necessity of dental drills in some procedures. Lasers are more precise, reducing the risk of damage to surrounding tissues. Finally, they can speed healing times and reduce the risk of complications by controlling bleeding, killing bacteria, and sealing wounds almost instantly. When used by trained dental professionals, dental lasers are considered extremely safe and effective. Although lasers are not appropriate for every patient or every dental need, they can be a good option for many types of care.
About Hamlin Dental Group
Dr. Hamid Reza founded Hamlin Dental Group to provide patients with comprehensive dental care. An avid volunteer who is committed to bringing dental care to the underprivileged, Dr. Reza is a member of the American Dental Association, the San Fernando Valley Dental Society, and the California Dental Association. Drs. Reza, Koshkerian, Yessaian, Woo, Garemani, Aminian, Wang, and Vafadar work together to provide general and specialty dental care. They are multilingual to better meet their patients' needs and are fluent in a variety of languages, including English, Spanish, Farsi, Armenian, Arabic, Telugu, German, and Chinese.