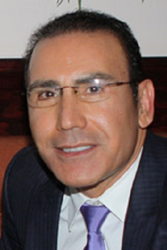 North Hollywood, CA (PRWEB) October 03, 2017
Dr. Hamid Reza, who is a dentist in North Hollywood and Northridge, is now offering a new patient special. Regular dental exams are important for good dental health. They can reduce the risk of dental problems such as periodontal disease and cavities, as well as the risk of certain general health problems, including cardiovascular disease. This special can be a great opportunity for new patients to get to know Dr. Reza and his team.
The special includes a comprehensive dental exam and dental X-rays, if necessary, for just $49. A complimentary dental cleaning will be included for patients without periodontal disease.
According to the American Dental Association, most people should have a dental exam about twice a year. However, this exam frequency can vary based on individual factors, such as personal health status, risk factors and dental or medical history. Those who smoke or have diabetes or a history of dental disease may need more frequent exams than those who have no history of dental problems and good general health.
Cleaning schedules can also vary according to need. Professional dental cleanings are needed to remove plaque and tartar buildup. While brushing and flossing remove plaque and debris from teeth, they cannot remove the mineralized buildup called tartar. During a professional cleaning, we remove tartar which can irritate your gums and lead to other dental problems, such as decay and gum disease. X-rays are used to spot problems developing between teeth or below the gum line. Other preventive dental treatments can be explored at a routine checkup with Dr. Reza. These can include dental sealants, fluoride, or orthodontics such as Invisalign.
About Hamlin Dental Group
As the founder of Hamlin Dental Group, Dr. Reza has more than 20 years of experience and has expanded the practice into both Northridge and North Hollywood. He offers comprehensive dental care to both children and adults and is a member of the San Fernando Valley Dental Association, the California Dental Association and the American Dental Association. The team at Hamlin Dental Group includes Drs. Garemani, Koshkerian, Aminian, Vafadar, Wang, Yessaian and Woo, who offer cosmetic, restorative, orthodontic and periodontal care.