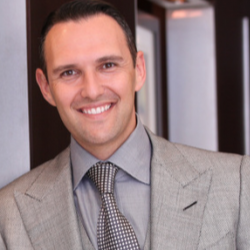 I wanted to be one of the first dentists to fill the gap between dental care and beauty with a luxurious collection of products designed to make you feel beautiful and youthful
(PRWEB) May 05, 2015
Beverly Hills Cosmetic Dentist, Arthur Glosman released a luxury line of advanced dental health and beauty products to be sold at the offices of Arthur Glosman DDS, 450 N Roxbury Drive Suite 222 in Beverly Hills, and worldwide through an online store. "I wanted to be one of the first dentists to fill the gap between dental care and beauty with a luxurious collection of products designed to make you feel beautiful and youthful," says Dr. Glosman.
Dr. Glosman's Advanced Dental Health + Beauty™ products use a potent natural ingredient called Salvadora Persica, derived from the fibrous branches of a tree, also called miswak.
Miswak has been promoted by the World Health Organization for oral hygiene use and has been used for centuries as a natural toothbrush for several cultures. "By leveraging the power of Salvadora Persica, our Luxe Collection is crafted to enhance your smile both inside and out," says Dr. Glosman.
Dr. Glosman believes Salvadora Persica contains anti-plaque agents such as fluoride, and can improve mental awareness, digestion, memory, and can make teeth glow and shine. Salvadora Persica is also used to prevent tooth decay, headaches and bad breath. "We have harnessed the power of this clinically active natural ingredient to ensure optimal dental health and beauty," concludes Dr. Glosman.
Advanced Dental Health + Beauty™ products include: Toothpaste (with whitening and fluoride), Mouthwash (with whitening and fluoride), Electric Toothbrush, On-The-Go Whitening Pen, At Home Whitening Kit (bleaching trays can also be night guards / sports guards), Whitening Refills, Lip Balm with SPF 30 (unisex), Lip Enhancer Gloss with SPF 15 (locks in moisture and enhances the natural color of your lips and lipsticks you wear), and A Lip Area Rescue (to reduce fine Lines and wrinkles around the lips).
For more information about Arthur Glosman DDS please visit: http://arthurglosmandds.com/
About Arthur Glosman DDS
Cosmetic Dentist Arthur Glosman DDS offers a wide array of general, cosmetic and orthodontic dental services to patients in Beverly Hills and neighboring communities who demand the best in overall dental care. His extensive experience in various fields of dentistry, including training in health, and beauty care, gives him an edge over other cosmetic dentists in Los Angeles. Satisfied patients from all over the world have benefited from the advanced dental and beauty solutions offered by Arthur Glosman and his staff, reinforcing his reputation as one of the best cosmetic dentists in the world. He has not only allowed patients to get back the lost beauty and state of their teeth, but also enabled them to improve the quality of their lives by boosting their inner confidence and outer looks. His comprehensive and comfortable approach are why most people who demand top quality dental work prefer to visit Dr. Glosman with all their dental concerns.
Website: http://www.arthurglosman.com