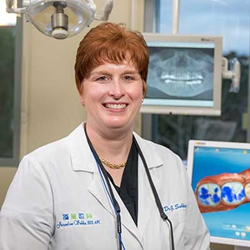 I like to use an anesthesiologist for sedation so I can concentrate on dentistry and they concentrate on the patient being kept comfortable.
CALABASAS, Calif. (PRWEB) August 01, 2019
Trusted dentist, Dr. Jacqueline Subka, welcomes those who suffer from dental anxiety in Calabasas, CA to receive custom sedation dentistry treatment at her relaxing and comfortable practice in Thousand Oaks, CA. Dental anxiety affects thousands of children and adults across the country, making it difficult for them to get the oral health care they need and deserve. By offering a of myriad of sedation dentistry treatments in a relaxed environment, Dr. Subka ensures that any patient can receive proper dental care as comfortably as possible.
Dental anxiety can stem from a variety of issues. Some patients are afraid of needles or have a stronger than normal gag reflex. Others may have experienced dental trauma in their past, leaving them with an aversion to the sights, smells and sounds of dentist offices. Sedation dentistry uses medications to calm patients who have dental anxiety, enabling them to undergo routine procedures or even combine procedures in order to decrease their number of visits.
Dr. Subka offers four types of sedation dentistry: oral sedation, nitrous oxide, IV conscious sedation and local anesthetic. Patients who undergo oral sedation take oral medication before their appointments. These pills provide a sense of relaxation and have a soothing mental effect. Nitrous oxide, which was once referred to as "laughing gas", tends to leave patients feeling happy. Because it is breathed in, nitrous oxide takes effect quickly and leaves the body rapidly after treatment ends.
IV conscious sedation relies on sedatives sent directly into the bloodstream. Although patients remain conscious throughout their treatments, they retain no memories of the events. Local anesthetics round out the many ways Dr. Subka makes coming to the dentist much simpler and less worrisome. Local anesthetics are numbing agents injected into the site where Dr. Subka will be working.
To help her focus on treatments, Dr. Subka brings in other professionals to administer nitrous oxide and IV conscious sedation. "I like to use an anesthesiologist for sedation so I can concentrate on dentistry and they concentrate on the patient being kept comfortable," she says. "I always want to make sure there's one person that's completely dedicated to watching the vital signs and caring for the patient's well-being."
Those who have avoided the dentist because of dental anxiety or fear are invited to make an appointment with Dr. Subka at her welcoming Thousand Oaks, CA practice by calling 805-373-1919.
About the Dentist
Dr. Jacqueline Subka is a general dentist offering personalized dental care for patients in Thousand Oaks, CA since 1999. Dr. Subka received her dental degree from the prestigious University of Southern California School of Dentistry in Los Angeles. Dr. Subka practices gentle dentistry and incorporates state-of-the-art techniques to provide leading, minimally invasive care. She and her team are committed to continuing education and strive to provide high-quality, personalized dental care to each patient. To learn more about Dr. Subka and the dental services she provides, visit her website at http://www.subkadds.com or call 805-373-1919.