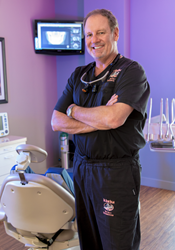 Not only can BOTOX reverse the effects of aging on the skin, but it can turn back the clock and offer a youthful appearance with regular applications.
CHARLESTON, S.C. (PRWEB) December 14, 2018
General and cosmetic dentist, Dr. Kevin Hogan from Smiles by Hogan, is encouraging those with frown lines, crow's feet or other fine facial lines and wrinkles in Charleston, SC, to consider the advantages of receiving BOTOX®. A commonly used cosmetic product, BOTOX is often a preferred solution to facial lines and delivers noticeable, long-lasting results.
For years, FDA-approved BOTOX has maintained its lead as a trusted method to reduce the signs of aging in men and women. An injected treatment, BOTOX helps the muscles relax, smoothing out wrinkles, fine lines, crow's feet, and sagging. Not only can BOTOX reverse the effects of aging on the skin, but it can turn back the clock and offer a youthful appearance with regular applications.
Every BOTOX and cosmetic dentistry session at Smiles by Hogan focuses on patient comfort and safety above all else. Typically, a single BOTOX treatment takes about 10 minutes. For this reason, many patients of Dr. Hogan conveniently set up BOTOX sessions directly after their six-month routine cleaning appointments and examinations.
The results of each BOTOX application will vary from patient to patient. However, some people report significant changes in the depth of the lines on their face. Even severe frown lines can be relaxed with consistent BOTOX treatment under the guidance of a trained dentist such as Dr. Hogan.
In addition to offering BOTOX, Dr. Hogan offers other cosmetic dentistry options if patients would like to match their smile to their new, youthful appearance. Professional level teeth whitening can be another way to make a smile stand out and erase the tooth discoloration and staining that typically occurs over time. Another favorite cosmetic treatment among Dr. Hogan's patients is orthodontics, including the well-respected Invisalign® system. Porcelain veneers placement and composite filling applications can also play vital roles in a smile revitalization treatment plan.
Those interested in reviving their smile with BOTOX in Charleston, SC are encouraged to contact Dr. Hogan's Mt. Pleasant, SC, office at 843-639-5921 with or without a referral. For more information on the benefits of BOTOX and other cosmetic treatments, visit http://www.smilesbyhogan.com.
About the Dentist
Dr. Kevin Hogan is a general dentist providing individualized care for patients in Mt. Pleasant, SC. Dr. Hogan is a graduate of the Indiana University School of Dentistry and has completed hundreds of hours of continuing education courses to stay contemporary with the latest dental technologies. In addition, he has also completed coursework with the Dental Organization for Conscious Sedation and has lectured at the University of North Carolina, Emory University, the Saginaw Valley University and AUA-American University of Antigua on head and neck anatomy and oral pathology. Dr. Hogan is a member of the American Dental Association, International College of Cranio-Mandibular Orthopedics, Academy of Laser Dentistry, International Association of Physiologic Aesthetics, Institute for Advanced Laser Dentistry, DOCS (the Dental Organization for Conscious Sedation), International Congress of Oral Implantologists and the South Carolina Dental Association. He is also a past member of the American Straight Wire Orthodontic Association, Maxillofacial Orthopedic Growth and Development, the American Academy of Pediatric Dentistry and the Functional Orthodontic Society. He and his team are dedicated to providing exceptional oral care to patients through personalized treatment plans. To learn more about the services offered by Dr. Hogan, please visit his website at http://www.smilesbyhogan.com or call 843-216-0908.