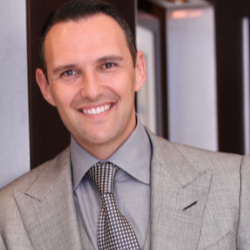 Of course, professional supervision is always better than someone trying to do it themselves
Beverly Hills, CA (PRWEB) July 10, 2014
Arthur Glosman DDS, a top cosmetic dentist in Beverly Hills, is now offering teeth whitening treatments and procedures to eliminate tooth stains and discolorations caused by foods, beverages and lifestyle habits.
"Several cups of coffee a day, cola drinks, iced tea, smoking, all have discoloring effects on our teeth," says Dr. Glosman. "Adding to this, the little time we have in our busy day makes it difficult to maintain luminous teeth, so people look for solutions to get the shine back." Teeth whitening treatments are one of the most popular services patients ask about while visiting a dentist.
There are hundreds of products on the market with a claim to teeth whitening. This can range from toothpastes and whitening strips to gels and powders. Toothpastes clean surface stains but do not whiten teeth effectively. Other whitening agents on the market vary in performance and cost, and may cause uncomfortable sensitivity. "They do whiten teeth, but it may take some time and results will show only after repeated use," adds Dr. Glosman. "Getting the most effective results in the shortest time period is what most patients request in a whitening solution."
"Dentists can tell you whether you can get significant results from whitening, but remember to have clean teeth, get cavities filled and address any other dental issues before," says Dr. Glosman. Dentists will provide patients with a guide on how to care for newly whitened teeth after the treatment. "Of course, professional supervision is always better than someone trying to do it themselves."
Teeth whitening can be done by laser or by bleaching by a dentist. Laser technology, though more expensive, is a very quick and effective method of teeth whitening. In this process, a whitening product is applied to the teeth and then a laser is used for the whitening effect. The other method is by bleaching, which is effective as well, though it may require more than one sitting for complete results. The feature that distinguishes a dental treatment from other over-the-counter products is its efficacy at the first treatment and longer lasting result.
Coming to health concerns, teeth whitening is a safe treatment, as it doesn't damage the teeth. However, some people may experience tooth sensitivity or gum irritation after whitening. These are temporary effects. A dentist, such as Arthur Glosman DDS, can guide you on this as well and recommend some products to reduce the effect. You can find a good dental service in your city by searching online.
Also, it is essential to take care of your teeth and your eating habits after a teeth-whitening session for prolonged effect. Brushing twice a day, using a brush with soft bristles, flossing the teeth and regularly rinsing the mouth after eating or drinking will go a long way in keeping your teeth healthy.
###
About Arthur Glosman
Cosmetic Dentist Arthur Glosman DDS offers a wide array of general, cosmetic and orthodontic dental services to patients in Beverly Hills and neighboring communities who demand the best in overall dental care. His extensive experience in various fields of dentistry, including training in health and beauty care, gives him an edge over other cosmetic dentists in Los Angeles. Satisfied patients from all over the world have benefited from the advanced dental and beauty solutions offered by Arthur Glosman and his staff, reinforcing his reputation as one of the best cosmetic dentists in Beverly Hills and beyond. He has not only allowed patients to get back the lost beauty and state of their teeth, but also enabled them to improve the quality of their lives by boosting their inner confidence and outer looks. His comprehensive and comfortable approach are why most people who demand top quality dental work prefer to visit Dr. Glosman with all their dental concerns.
Website: http://arthurglosmandds.com/
Media Contact
Karl Hirsch
818-244-3770 x104