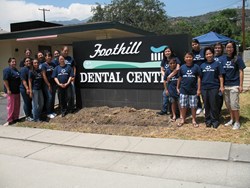 Some may have lost their insurance, and others simply can't afford to pay out of their own pockets. That's why we wanted to continue offering this program. On Friday the smiles were on us!
Monrovia, CA (PRWEB) August 14, 2013
On Friday August 16, 2013 Foothill Dental Center will host their third annual "Free Day of Dentistry" event to benefit those in need of dental care who are not able to afford it.
"We know it can be tough on families today to get basic dental care. Some may have lost their insurance, and others simply can't afford to pay out of their own pockets. That's why we wanted to be a part of this program," says owner Dr. Emily Letran.
Since starting this event two years ago, Dr. Letran and her staff have served 319 people in the surrounding community (that's over $63,000 in free dental care). Those who have been holding off on much needed dental care due to cost need to visit Foothill Dental in Monrovia on August 16th.
When: Friday August 16, 2013
Where: Foothill Dental Center
837 W. Foothill Blvd
Monrovia, CA 91016
626-305-5722
What: A Complimentary treatment for ONE of the following: extraction, filling, or cleaning (must be 18 years or older)
How: ARRIVE EARLY – Registration begins at 7am. Dress appropriately for weather. Patients are welcome to bring chairs, water, and snacks while they wait.
About Emily Letran:
As a mother of three, Dr. Letran creatively balances work, family life, after-school life and her personal life as a growing entrepreneur. She continuously takes courses in clinical dentistry, practice management and marketing, striving to improve her skills to better serve patients. Her favorite activities include reading, writing, and "hanging out" with her three children - whether playing tennis, watching Netflix or window-shopping at the mall.
For Dr. Letran, it is an honor and privilege to be part of her patients' lives. As she watches kids growing up, grandparents getting old, the passing of spouses, the courage of the people left behind, individuals going through tough times like job loss or marital separation, she is reminded that the most important thing in life are the relationships we build with other human beings. She is proud to be a small part of these relationships - the ones she shares with patients.
Dental Offices of Dr. Emily Letran
Dr. Emily Letran
Letran (at) EmilyLetranDDS (dot) com
Foothill Dental Center (primary)
837 W Foothill Blvd
Monrovia CA 91016
626-305-5722
http://www.CosmeticDentistMonrovia.com
Mountain View Dental Group
4639 North Peck Road
El Monte CA 91732
626-444-9281
http://www.MyElmonteDentist.com
"Dr. Emily Letran is Proud to Support The HOME Foundation"
About The HOME Foundation:
The Helping Others Means Everything, or The HOME Foundation, is a not-for-profit organization dedicated to helping our Family of Charities. Frankie Verdugo, President of The HOME Foundation, wants to help as many worthy charities as possible as they struggle during these tough economic times. Frankie Verdugo helps raise funds through luxury dream home raffles, home giveaways, prizes, and high profile celebrity events in Hollywood... "Our mission is to help charities reach their fundraising goals and to bring awareness to their praiseworthy causes."