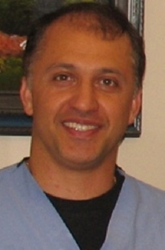 Torrance, CA (PRWEB) June 26, 2017
Torrance dentist, Dr. Robert Mondavi DDS, is now offering comprehensive cosmetic dental treatments. Smile aesthetics can be one of the most noticeable aspects of a person's appearance. A healthy, radiant smile can make a person look more attractive, youthful, and approachable. While not everyone is born with beautiful, balanced teeth, everyone can have the smile of their dreams with cosmetic dentistry.
"The field of dentistry is always changing," said Dr. Mondavi. "I strive to stay up-to-date on leading-edge techniques and treatments. I'm always looking for ways to advance, whether it be from continued courses, other dentists, or through hands-on experience." Dr. Mondavi uses the artistry of cosmetic dentistry to highlight patient's best features and improve their overall appearance.
Some of Dr. Mondavi's most popular procedures include:

Replacing old or worn metal restorations with new, tooth-colored restorations
All-ceramic inlays and onlays
Extreme smile makeovers
Porcelain crowns and bridges
Teeth whitening treatments
Porcelain veneers
Cosmetic dentistry is often used to rejuvenate and renew damaged or worn smiles. It can lighten and erase stains, correct chips and cracks, cover worn enamel, and hide minor imperfections. Cosmetic treatments can also treat common problems such as gaps, crooked teeth, uneven gum lines, and misshapen teeth. The right treatments can significantly improve the look of a smile or take years off a patient's appearance. Virtually anyone with healthy teeth and gums can be a candidate for cosmetic dentistry, and the results can last a lifetime with good dental hygiene and proper care.
Other available treatments include periodontal treatments, dentures, partial dentures, night guards, root canal therapy, Invisalign treatments, athletic mouth guards, and pediatric dental care. Dr. Mondavi personalizes treatments to ensure the best possible results.
About Dr. Robert Mondavi
Dr. Mondavi is a graduate of the University of the Pacific School of Dentistry. He completes more than the required yearly amount of advanced courses every year. He is particularly focused on advanced implant training, advanced cosmetic dentistry training, and oral bio-aesthetic form and function. The office accepts a variety of dental insurance plans and is committed to creating and maintaining each patient's smile with the most advanced dental care available.