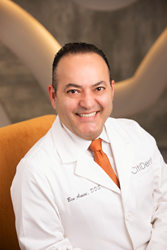 San Francisco, CA (PRWEB) February 09, 2017
San Francisco dentist, Dr. Ben Amini of CitiDent, has commented on a recent study that demonstrated a new method of preventing infections in patients who get dental implants. Although dental implants are the most natural and sought after option for replacing missing teeth, they do require surgery and a wait time period for the implant to integrate. This can raise the risks of infection in susceptible patients. Between bacteria that live individually and those that live in colonies called biofilms, the latter types are the ones most likely to affect patients after dental implant placement. When these infections do occur, treatment can prove challenging, and some ultimately lead to chronic infections that do not readily respond to antibiotic drugs. Furthermore, such tooth infections can cause dental implants to fail.
Over time, researchers have suggested a variety of solutions for dental implant infections, such as implants coated in an antibacterial substance. In a recent study performed by researchers at KU Leuven in Belgium, researchers created implants that contain reservoirs for antibacterial substances and release the substances to local tissues over time", says Dr. Ben Amini. "After simply removing a screw, a dentist can fill the space. The antibacterial substance then steadily enters the surrounding bone tissue through the porous material of the implant."
"These advances are arriving just as dental implant developers have been increasingly using rougher implants that not only improve the integration with the surrounding bone, but also tend to fight the bacterial biofilms."
Not only did these antibacterial implants fight the most common oral biofilm bacterium, Streptococcus mutans, but the implants also eliminated bacteria that were grown on their outer surface before their reservoirs were filled.
"This new technology may dramatically improve dental implant success rates, allowing dentists to aid more patients in enjoying the many advantages of dental implants compared to other tooth replacement options," says Dr. Amini.
Dr. Amini has been practicing dentistry in San Francisco since earning his DDS degree at the UCSF School of Dentistry in 1996. He is the founder of CitiDent, a multi-disciplinary practice in the San Francisco Financial District. An assistant clinical professor at his dental alma mater and a respected member of several professional dental organizations, Dr. Amini has attended numerous postgraduate education and training in various aspects of dentistry including implant and laser dentistry.