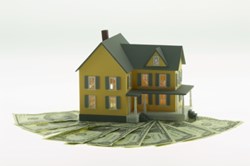 There are more than 30 neighborhoods and pockets—some of them among Denver's most desirable—in which the government is allowing repeat home buyers to save an average of $2,100 a year on their mortgages.
Denver, CO (PRWEB) November 13, 2013
Mortgage interest rates have been a huge topic of discussion in Denver real estate circles over the past few weeks, as these standard home payments hit a four-month low of 4.1 percent for a 30-year fixed rate in late October and have continued to stay in that ballpark ever since. But, as Christian Durland, a veteran mortgage adviser based out of Centennial, Colorado, reports, perhaps the biggest trend currently taking place in the local mortgage arena is the savings of $42,000 on the life of a home loan that the average Denver borrower is seeing through the use of the Mortgage Credit Certificate Tax Credit Program.
"A common reaction when I talk to both home buyers and even Denver real estate agents is that they've never heard of the MCC Program," says Durland. "Or, if they have, they think it applies only to first-time buyers or those in very low income brackets. But given the flexible provisions of this program, these assumptions are simply not true—which makes it perhaps one of the most drastically underused payment savings tools in the Denver real estate game."
To give some context, the way that an MCC works is by refunding 20 percent of a borrower's annual mortgage interest payments, which, in Denver, equals an average of $2,100 a year. To better illustrate how this tax credit works, let's take a typical tax payer who doesn't have an MCC, and when they complete their taxes, they get a $500 refund. If you take the same tax payer, but this time they have an MCC worth the average $2,100 annual amount, they would now get a refund from the IRS of $2,600. Spread this savings over the life of their mortgage loan, and it ends up being substantial, and one of the best parts of having an MCC, is that it if the homeowner refinances at some point in the future, the MCC holder can get the MCC reissued onto the new loan, with no restrictions on how many times an MCC holder can refinance.
However, as with most tax credit programs, the MCC is no different, and carries with it some provisions, including that home buyers can only benefit from the program if the home they are purchasing is their only residence. But this program goes beyond the limitations of the $8,000 First-Time Home Buyer Tax Credit Program from 2008-2010 in that, in many Denver areas, it is open to buyers regardless of how many homes they have owned in the past. Beyond that, as long as a household's income is under $95,100 for a one- to two-person home or $111,000 for a three-plus person home, qualifying is easily within reach. And seeing as the most recent U.S. Census Bureau data reported the median Denver household income at around $61,000, this program is obviously not just for buyers in lower economic tiers.
What makes Denver especially significant to the MCC Program is how many neighborhoods have been designated within the city as so-called "Targeted Areas," meaning places where all home buyers that fit the previously outlined qualifications can use an MCC.
"There are more than 30 neighborhoods and pockets—some of them among Denver's most desirable—that the government is allowing repeat home buyers to use an MCC in," Durland notes, citing popular Denver home areas like all of Downtown Denver, Baker, select areas within Capitol Hill and Highland as some of the hipper and more upwardly mobile neighborhoods where repeat buyers can use an MCC.
But if buyers are looking for further incentive as to why now could be a great time to make a move into the Denver home market, recent value and supply patterns have also been trending in their favor. Denver's median home list price of $336,526 as of a November 1st report from California-based real estate analytics tracker Altos Research is at a level that seems to be plateauing this fall after the dramatic six-figure gains that the market saw from about March through September. Furthermore, the 1,518 properties Altos listed on the Denver home market in the recent report, offer a much higher pool for selection than when there were just over 1,000 homes on the market as recently as April, and furthermore, close to 400 of these properties are in a "Targeted Area", which means there's quite a selection of homes that qualify for this phenomenal tax savings program. Add these trends to both the great benefits of the MCC program and today's low interest rates, and it becomes clear how ripe this market really is.
About Christian Durland:
As a well-established mortgage advisor with extensive knowledge of the intricacies of Colorado mortgage planning, Christian Durland's decade-plus of experience in his field has also allowed him to develop an elaborate network of Denver-area real estate professionals whom he can refer clients to, based on specific mortgaging needs. Operating outside of the conventions of simple real estate transactions, Durland prides himself on his ability to guide borrowers through every step of the home buying process in order to help maximize their savings. It's his success in these endeavors that has won him a reputation for being a trusted figure and foremost authority in the Colorado real estate community. Durland is also a multi-time recipient of the locally coveted 5280 Denver's Magazine's "Top Mortgage Professionals Award", which is awarded to Denver's most elite mortgage bankers and brokers annually.