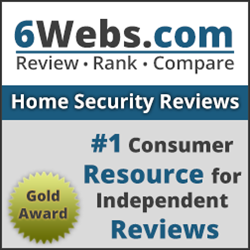 Compare the leading home security system providers online at 6Webs.com.
Denver, CO (PRWEB) August 07, 2013
6Webs.com is the leading site for independent home alarm system reviews. Consumers who are searching for a home alarm system can compare the features and services of the nation's top rated security system providers online at 6Webs.com. 6Webs.com just recently completed conducting their evaluations of the leading alarm system providers in Denver, Colorado. Each year 6Webs.com travels nationwide to perform in-depth reviews of the top security system providers in each state. Each home alarm system provider is scored on different areas including customer service, equipment and technology to mention a few.
http://www.6webs.com/best-home-security-systems/
Colorado is home to 5,116,796 residents. According to the 2011 FBI Uniform Crime Report there are 133,361 property crimes each year. Home security is constantly a concern to Colorado homeowners and now they have an unbiased source to help them with choosing a home alarm system with monitoring services. Response time and dependability are important factors to Colorado consumers who were interested in a home security alarm system.
Tim Smythe from 6Webs.com stated, "The Denver consumers that were interviewed indicated that their family would benefit from a home security system. A home security system provides homeowners a peace of mind that their home is being monitored 24x7 for not only intrusions but also more common threats like fire and dangerous levels of carbon monoxide."
http://www.6webs.com/home-security-systems-reviews/
FrontPoint Security was awarded as the best security system provider in the state of Colorado. FrontPoint Security provides home security services across the United States and Canada by supplying their customers with wireless home security equipment from GE Security. Always keeping customer service and satisfaction at the top of their priority list has made FrontPoint Security the top pick among Colorado consumers. The other best security system companies in Colorado are Protect America and ADT Security. Protect America pioneered the do-it-yourself or DIY security system and has been in business for over 20 years. ADT Security, the leader in professionally installed home security systems, has been in business for more than 100 years and has over 6 million customers.
6Webs.com found mobile features were an important deciding factor when Colorado consumers were selecting an alarm system. Security companies such as ADT Security offer customers mobile access to remotely arm and disarm the security system from anywhere there is an Internet connection. Some Colorado homeowners stated they might reap the benefits of the services that allow for streaming of wireless home security cameras right to an iPhone or Android device. Homeowners of Colorado can read more information about the best security system companies online at:
6Webs.com - Best Home Security System
About 6Webs.com
6Webs.com concentrates on delivering buyers with unbiased home security systems reviews. Shoppers can quickly do a comparison of the leading security system companies on 6Webs.com to help them select the best security system for their family. Shoppers will discover useful articles and tips on 6Webs.com's home security blog to help them lead a safer and more secure lifestyle. Visit 6Webs.com for the latest information about who's hot and who's not in the home security industry.