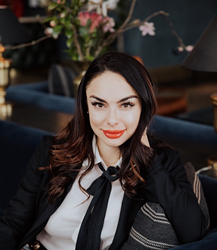 To me, taking a leap of faith to become a Realtor was the best decision I ever made. It truly is my dream job.
DENVER (PRWEB) May 29, 2019
"To me, taking a leap of faith to become a Realtor was the best decision I ever made. It truly is my dream job," said Athena, a Colorado native who grew up in a family of residential developers, builders and interior designers.
Athena has become revered for going above and beyond to get her clients the home they desire. "Even when a property isn't on the market, it doesn't mean it isn't available," stressed Athena, who has an impeccable eye for real estate and a background in interior design. Coming from the world of interior design and a family of builders gives Athena a leg up in the Denver realty community. She has a knack for seeing the potential in a home that others might not and understands the importance of inspecting the bones of a property.
Recently, Athena's client was looking to move up in properties, but had very specific criteria and wanted to look in a small localized area. She had been watching the market but nothing was coming on, so she went door to door to properties in the area. She eventually found a property, a gorgeous historic mansion, and although it was not on the market, it was going to be listed within a few months. Athena convinced the owners to not take it to the market. "Long story short, we got in there and closed on it last week," added Athena.
Athena obtained her real estate license in 2015 and immediately began to mentor under the owner of the New Era Group, John Stegner. "I really enjoy working with the consummate professionals at New Era Group, who are an inspiring group of people," stated Athena. "My goal from the beginning has been to always build strong relationships with my clients, and find a property that truly suit their lifestyle and needs."
During the course of her distinguished real estate career Athena has received a number of awards. In 2018, she was inducted into the Your Castle Real Estate Gold Club; in February 2019, she was ranked the No. 8 agent in the company; and, most recently, was named MVP for all of Your Castle Real Estate, which has more than 700 agents. Furthermore, she recently completed certification to become a Sellers Representative Specialist (SRS) and Accredited Buyer's Representative (ABR).
At 16 Athena became a professional freestyle skier and her hard work ethic and competitive attitude prepared her for the aggressive real estate arena. Concluded client Megan W., "As a first-time home buyer, Athena was absolutely the best agent I could have had. Not only was she incredibly knowledgeable about different aspects of the market, she went above and beyond to find me the perfect home, and it wasn't even listed! Getting the most beautiful home in the neighborhood in an off-market deal was the best outcome I could've possibly imagined, and having the most attentive, hardworking, and wonderful agent made the experience very low stress and very exciting."
About Athena Brownson, New Era Group, Your Castle Real Estate
Colorado native Athena Brownson works with both buyers and sellers. Athena takes pride in assisting her clients with such pivotal moments in their lives through purchasing or selling their homes. As Denver continues to blossom, Athena looks forward to helping you find the perfect property or sell your current property to move towards the next phase of your life. For more information, please call (303) 919-9344, or visit https://www.athenabrownson.com/.
For media inquiries, please call the NALA at 805.650.6121, ext. 361.