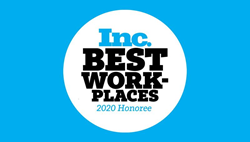 DENVER (PRWEB) May 08, 2020
Booyah Advertising, a leading digital marketing agency in the Denver metro area, has been named to Inc. magazine's annual list of the Best Workplaces for 2020. Since its founding in 2001, Booyah has worked tirelessly to build a people-first culture. Booyah is proud to be recognized for its commitment to cultivating this company culture in the workplace.
"Our employees made this happen," says Troy Lerner, CEO of Booyah Advertising. "Seriously. I didn't even want to apply, but they twisted my arm. I've resisted these types of contests for years and didn't really see the point. Boy, was I wrong. This feels really great! The staff is proud of the unique culture we've built together, and they wanted another way to share that success with the community. Once again, they've taught me something new, and I'm grateful for it. Booyah!"
Collecting data from more than 3,000 submissions, Inc. singled out 389 finalists for this year's list. "The companies on Inc.'s Best Workplaces list are setting an example that the whole country can learn from, especially now, when company culture is more important to the workforce than ever," says Inc. magazine editor-in-chief Scott Omelianuk. The strongest scores came from companies that prioritize the most human elements of work.
Developing the individual is at the center of Booyah's organizational structure, in which all employees regularly demonstrate their gratefulness to teach and learn. Each week, teams lead roundtables and workshops to share their unique insights, industry research, and the results of any recent testing. This dedication to growing an individual's potential has endeared the company to its employees and clients and promotes both fulfillment and expertise among the agency's employees.
With over 50+ employees, Booyah is one of the largest and fastest-growing digital marketing agencies in the Denver area. To capitalize on this growth, Booyah recently expanded its service offerings to provide solutions across all digital marketing channels, including organic and video. In addition to existing employee benefits like free healthcare, unlimited PTO, competitive 401k match, and more, the agency is rewarding its employees for this enduring success through the establishment of a company thought leadership program.
For more information about working at Booyah Advertising and job opportunities, visit https://www.booyahadvertising.com/careers/.
For more information about the Inc. Best Workplaces, visit https://www.inc.com/best-workplaces/2020.html.
ABOUT BOOYAH ADVERTISING
Founded in 2001, Booyah Advertising is an award-winning digital marketing agency located in Denver, Colorado. Working with brands such as Unilever and Western Union, Booyah helps clients get better results from their digital marketing efforts through deliberation, experimentation, and collaboration. Booyah uses an integrated approach across services including paid search, paid social, display media, SEO, Amazon marketplace management, video, and programmatic. For more information, visit https://www.booyahadvertising.com/.
ABOUT INC. MEDIA
Founded in 1979 and acquired in 2005 by Mansueto Ventures, Inc. is the world's most trusted business-media brand offering entrepreneurs the knowledge, tools, connections, and community to build great companies. Its award-winning multiplatform content reaches more than 50 million people each month across a variety of channels including websites, newsletters, social media podcasts and print. For more information, visit https://www.inc.com/.
MEDIA CONTACT
Aubree Cross, Head of Marketing | across@booyahadvertising.com, 303.345.6047