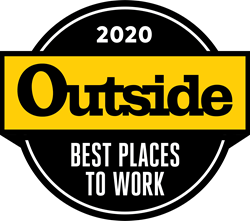 Though it's always been there, Booyah's foundation of flexibility has been especially crucial to keeping our teams happy and healthy this year.
DENVER (PRWEB) November 17, 2020
Booyah Advertising, a leading digital marketing agency in Denver, has been selected as #6 on Outside's annual list of The 50 Best Places to Work. Booyah is proud to be recognized for its commitment to cultivating a standout company culture, one that prioritizes employee access to wellness resources and outdoor recreation. While this focus has been core to the agency's success since its founding in 2001, Booyah has redoubled its efforts in 2020 to ensure employees have the resources and flexibility needed to maintain their wellbeing while working remotely during the COVID-19 pandemic.
"Being headquartered in the Rockies is one of our best recruiting tools," says Troy Lerner, CEO of Booyah Advertising. "Most of our team members come to us from outside the area. They're drawn to the sunny days, the easy access to the mountains, and the youthful vibe of Denver. Once they're here, our goal is to help them build a fulfilling career and lifestyle. Of paramount importance — this year especially — this means giving our staff the flexibility they need to prioritize their health and safely get outside to take advantage of the reasons they moved to Colorado: the mountains, the wellness focus, the pace of life. A #6 spot on Outside's list is a signal that we're achieving that goal."
With over 70 employees, Booyah is one of the largest and fastest-growing digital marketing agencies in the Denver area. To fuel this growth, Booyah recently expanded its service offerings to provide solutions across all digital marketing channels, including organic and video. In addition to existing employee benefits like free healthcare, unlimited PTO, competitive 401(k) match, and more, the agency has also provided employees with stipends to improve their work-from-home setups and enhance their comfort as remote work due to COVID-19 continues into 2021.
Reflecting on how Booyah has helped employees maintain their productivity and wellbeing while working remotely, Senior Director Cailin Fisher shares, "The belief that happy employees are productive employees truly shines through in the company culture that's cultivated at Booyah. After transitioning to 100% remote work, we've all done a really good job of holding each other to a standard of flexibility – that it's ok to step away, to get outside, to do a quick 15 minutes of yoga. Whatever you need to refresh and rejuvenate. Not only are we taking that time for ourselves, but everyone is genuinely encouraging each other to do the same. Though it's always been there, Booyah's foundation of flexibility has been especially crucial to keeping our teams happy and healthy this year."
For more information about job opportunities and working at Booyah Advertising, visit https://www.booyahadvertising.com/careers/.
For more information about the Outside 50 Best Places to Work in 2020, visit https://www.outsideonline.com/2418305/best-places-work-2020.
ABOUT BOOYAH ADVERTISING
Founded in 2001, Booyah Advertising is an award-winning digital marketing agency located in Denver, Colorado. Working with brands such as Aspen Snowmass, Stio, the Mountain Collective, and Unilever, Booyah helps clients get better results from their digital marketing efforts through experimentation, collaboration, and diligence. Booyah uses an integrated team approach across services including paid search, paid social, display media, SEO, Amazon marketplace management, video, creative, and programmatic. For more information, visit https://www.booyahadvertising.com/.
MEDIA CONTACT
Aubree Cross, Head of Marketing | across@booyahadvertising.com, 303.345.6047