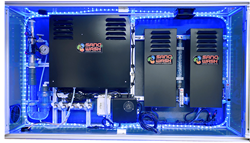 As part of our commitment to the communities we serve, we are consistently finding new ways to deliver the best garment cleaning services with the least impact on the environment." - Christa Hagearty, President, Dependable Cleaners
DORCHESTER, Mass. (PRWEB) February 10, 2020
Dependable Cleaners has added a revolutionary new cleaning system, the San-O3-Wash, to their Dorchester laundromat. The San-O3-Wash system works by adding small amounts of Ozone to the washing machines which in turn kills germs, bacteria, and superbugs resulting in cleaner and fresher-smelling laundry. The system is odor-free, pet and child-friendly and disinfects every washer, every wash. In addition to producing cleaner laundry, the system reduces energy costs.
"We are excited to add this technology to our laundromat," said Christa Hagearty, President, Dependable Cleaners. "As part of our commitment to the communities we serve, we are consistently finding new ways to deliver the best garment cleaning services with the least impact on the environment," said Hagearty.
The San-O3-Wash system was installed by Aquawing, a New England based Ozone laundromat systems company. "Ozone effectively loosens fibers and breaks down soil and stains. San-O3-Wash results in cleaner, fresher-smelling laundry," said Aquawing president Ralph Daniels.
Aquawing has installed more than 5,000 systems worldwide which has dramatically cut the carbon footprint of numerous laundromats, hotels, nursing homes, and hospitals. The Dependable Cleaners laundromat located at 1141 Dorchester Avenue, Dorchester, MA will be the first laundromat in New England to offer this technology.