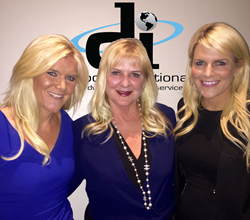 Minneapolis, MN. (PRWEB) May 16, 2017
Depo International, an industry leader in providing court reporting and legal videography services, is proud to announce that it is now celebrating a new distinction as a certified women-owned business. Depo International has held the prestigious status for more than a decade of being the only certified member of WBENC, Women's Business Enterprise National Council, in the industry in the State of Minnesota, and now also is certified with WOSB, Women Owned Small Business . The company was founded more than forty years ago with a commitment to accurate and prompt court reporting and legal videography services. Since then, Depo International has continued to grow nationally and internationally by championing relentlessly state-of-the-art technology and global realtime court reporting.
The firm also proudly has been awarded membership with the National Association for Minority and Women Owned Law Firms (NAMWOLF).
Depo International's Chairman and CEO Patricia Carl shared, "As a company, we have a lot to be proud of -- being recognized as the "Trial Lawyer's Choice" and more than four decades of providing court reporting and legal videography services for our prestigious law firm clients, who have entrusted us with their multi-million dollar cases, nationally and internationally. As a company dedicated to representing and contributing to the growth of professional women, however, we are honored and proud of our recognitions and certifications as a women-owned business." The company currently has offices in Minneapolis, Las Vegas, and Chicago.
Carl believes that it's a combination of experience and outstanding customer service that has helped Depo International stand out and grow quickly. The staff at Depo International are experienced with large case management, complex cases, and comprehensive court reporting services.
"We've known from day one that at the end of the day, it's about our clients. We have worked hard to ensure our offerings keep our clients in mind and that we strive for the prompt and accurate service they count on. We were the first in the industry to offer 5-day delivery as a standard delivery time, as we know how important it is to our clients that they receive their deposition transcripts promptly, so they can move on with the next stage of discovery. As our services have evolved and expanded nationally and internationally, we have still kept the primary focus on quality and understanding the needs of our busy clients. Doing that as a certified women-owned business is one of our great accomplishments," Carl says.
The company provides certified court reporters, realtime court reporter, CLVS-certified legal videographers, streaming audio/text/video, mobile web conferencing, and paperless and hyperlinked exhibits.
Depo International is very active in the legal community, contributing and sponsoring many legal organizations, and presenting to law firms on the topic of creating a culture of gratitude in the workplace, which is a message delivered to offices all over the country. Depo International believes that an outstanding customer experience has contributed significantly to their success, including events like CLE-certified educational seminars, remembering clients on special occasions, client celebrations, and monthly thank-you events.
To learn more about the services offered by this certified women-owned company, please visit http://depointernational.com/