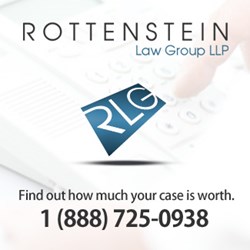 (PRWEB) October 19, 2013
There are a handful of metal-on-metal hip implants either on the market or recalled in the last few years. Following news that DePuy Orthopaedics is considering a $3 billion settlement of lawsuits over its recalled ASR hip replacements, the Rottenstein Law Group LLP, which maintains the DePuy Settlements Information Center, looks at the status of settlements with other hip implant products.
Of the products, the ASR, manufactured by Johnson & Johnson subsidiary DePuy, was among the first recalled. Following the 2010 recall, there have been more than 11,000 lawsuits in state and federal courts, according to Bloomberg,* which said that the $3 billion settlement would settle essentially all of those lawsuits. The exact date of any agreement is unknown, but according to Bloomberg it could happen anywhere between this fall and early 2014.
The Smith & Nephew R3** and Stryker Rejuvenate and ABG II*** were recalled in June and July 2012, respectively. So far, DePuy has not recalled its Pinnacle, nor has Biomet recalled its M2a Magnum nor has Wright Medical recalled its Conserve. All of these are at least partially metal-on-metal implants.
Among the side effects alleged in court documents (In re: DePuy Orthopaedics Inc., ASR Hip Implant Products Liability Litigation; MDL-2197, U.S District Court for the Northern District of Ohio) as a result of implantation of the DePuy ASR metal-on-metal hip replacement system is its components' likelihood to rub against each other, causing metal poisoning, or "metallosis," according to the U.S. Food and Drug Administration.**** Small heavy metal ions can break off into a patient's bloodstream and cause neurological problems and other side effects, the FDA said. In 2010 Johnson & Johnson recalled 93,000 metal-on-metal hip implants worldwide, about 33,000 of those in the United States, according to Bloomberg.
The Rottenstein Law Group LLP encourages those who believe they have suffered from the ASR's alleged side effects to visit the firm's website to download a free informational brochure to learn more about ASR settlements and side effects, and how to contact an attorney for a free consultation.
*bloomberg.com/news/2013-08-21/j-j-said-to-weigh-3-billion-settlement-of-its-hip-implant-cases.html (Aug. 21, 2013)
**http://www.fda.gov/medicaldevices/productsandmedicalprocedures/implantsandprosthetics/metalonmetalhipimplants/ucm241770.htm
***stryker.com/en-us/products/Orthopaedics/modularneckstems/index.htm
****http://www.fda.gov/MedicalDevices/ProductsandMedicalProcedures/ImplantsandProsthetics/MetalonMetalHipImplants/ucm241604.htm
About THE ROTTENSTEIN LAW GROUP LLP
The Rottenstein Law Group LLP is a New York-based firm that represents clients nationwide in mass tort actions. The firm was founded by Rochelle Rottenstein, who has more than two decades of experience as a lawyer, to represent clients hurt by defective medical devices and medications. (Attorney advertising. Prior results do not guarantee a similar outcome.)
Contact:
The Rottenstein Law Group LLP
Rochelle Rottenstein, Esq.
321 W. 44th Street
# 804
New York NY 10036
(212) 933-9500 (office phone)
(212) 933-9980 (facsimile)
rochelle (at) rotlaw (dot) com
###