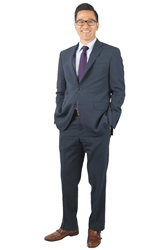 Blackstone's successes are a true reflection of the care and commitment Derek puts into his work
SILICON VALLEY, Calif. (PRWEB) July 31, 2018
BlackStone Discovery's President, Derek Duarte, has been honored with a 40 Under 40 Award by the Silicon Valley Business Journal for his impact and influence in both the legal services industry and the Silicon Valley community. Each year, SVBJ selects forty of the Valley's most promising business leaders to showcase in its special issue. With the award, Duarte joins the company of some of Silicon Valley's most prominent figures. In the legal field, his reputation as a trailblazer and innovator is further cemented.
Duarte has been a catalyst for growth and transformation at BlackStone Discovery and within the legal industry. With his leadership, BlackStone has become the trusted legal technology expert for Silicon Valley's top corporations and law firms, advancing cutting edge data solutions for complex litigations and investigations.
"He leads through optimism, which is contagious and builds camaraderie within teams," CEO John Kelly said. "He has a multitude of talents and I have yet to discover a task or problem he cannot handle."
Before ascending to President, Duarte served as Vice President of Technology Solutions at BlackStone. In the role, he developed multiple proprietary technologies, advanced artificial intelligence in legal services, and established clearer communication channels and workflows. BlackStone has grown exponentially since Duarte joined and continues to show sustainable gains.
"Derek has a true passion for his craft and dedicates himself to the Kaizen principle of improving every day. That attitude permeates throughout the company, and Blackstone's successes are a true reflection of the care and commitment Derek puts into his work," Director of Client Solutions Thomas Gersey said.
Duarte's impact has been noticed by others in the industry as well. He has been invited to speak at numerous events and bar associations across the country, educating lawyers and their support teams on innovative strategies for approaching eDiscovery.
"As a leader in our industry, Derek is just scratching the surface of the impact he will have, a fact that everyone he encounters can see immediately," VP of Operations Minh Tran said. "What they don't see is his impact at Blackstone as a leader and exemplar. His dedication to creating success for every individual in the company has led to BlackStone's growth and standing and made it a place where people want to work and learn."
Over the years, Duarte has been involved in numerous impactful projects in the community as well. Most notably, he has led affordable housing campaigns as a fellow with the New Leader's Council and volunteered on political campaigns calling for social reform. Above all else, Duarte is focused on his role as a father and husband. He is a family man who loves taking his kids on camping trips and coaching them in sports.
About BlackStone Discovery
BlackStone Discovery is the premier legal technology and consulting provider, working with leading Fortune 500 companies and AM Law 100 firms. Since 2003, BlackStone Discovery has customized solutions for the most complex eDiscovery needs and high profile Forensic Investigations leveraging industry-leading technology and employing proprietary applications with a team of highly trained professionals. BlackStone Discovery is devoted to delivering the most cost-effective and defensible solutions available. Blackstone's service offerings span the entire EDRM including Forensic Imaging & Internal Investigations, Relativity Hosting Solutions, Attorney Document Review, Early Data Analysis (EDA), Technology Assisted Review, Enterprise Discovery Protocols (EDP), and Case Management Consultation.