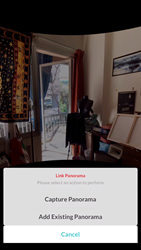 No need for advanced skills or additional software, the free mobile app does it all
Jounieh, LEBANON (PRWEB) March 15, 2019
After the success of its 360 capturing mobile app "DMD Panorama" with 10M+ downloads, start-up Dermandar, leader in the field of 360 and image processing technologies is launching "360visit", a new app for the creation of 360 Virtual Tours.
360 Virtual Tours allow anyone to visit remote places from a mobile phone or desktop while staying in the comfort of the living room. Navigation is made possible through a sequence of 360 images connected with links. With "360visit", Dermandar allows any smartphone owner to create and share a unique teleportation experience.
360 Virtual Tours are definitely useful for showcasing an apartment for rent or sale. They are not only suitable for professional usage such as promoting a small business or making on-site surveys, but they also allow to relive unforgettable memories by walking through the 360 images of a touristic trip.
Here is a video that shows "360visit" in action and a Virtual Tour of an apartment made with the app in around 5 minutes.
With "360visit", users can create a 360 panorama navigable left and right by capturing photos while making a full turn. The same process made with a clip-on 180 degree fish-eye lens allows to include floors and ceilings. For professional usage, Dermandar recommends to automate the creation process by adding a motorized panoramic head or rotator. Compatible lenses and rotators, designed by Dermandar, can be found on "theVRkit" website.
"We are excited about offering our users the ability to create a Do-It-Yourself Google Street View experience. 360visit is a turnkey solution to capture professional-looking 360 Virtual Tours" said Elie-Grégoire Khoury, CEO of Dermandar.
"360visit" is launched on iOS platform. The Android version is planned in the coming months along with advanced features such as compatibility with any 360 camera and branding options.
About Dermandar:
Dermandar is a start-up specialized in "Digital Image Technology" and leader in the field of 360 VR technologies. It has released several 360 solutions such as the award-winning "DMD Panorama" app, "theVRkit" hardware that converts any smartphone into a VR camera and StereoStitch, a Live VR stitching software.