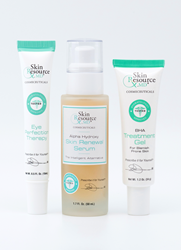 As consumers become more sophisticated with their knowledge of product benefits, they understand that AHAs and BHAs can result in smoother, younger looking skin.
SAN DIEGO (PRWEB) October 12, 2020
Skin Resource.MD, a therapeutic line of skincare products created by board-certified dermatologists and based out of San Diego, California, announced the optimization of three of their existing products, for improvement in results and use.
The Alpha Hydroxy Skin Renewal Serum formerly known as Advanced Age Limit Serum has been reformulated with powerful antioxidant ingredients, including: Lemon extract, white tea extract and Pyrus Malus fruit extract to restore, protect, hydrate and energy skin and to increase collagen. Ingredient benefits include:
Lemon extract: Increases collagen, hydrates skin, and helps fade dark spots
Pyrus Malus fruit extract: Restores skin
White tea extract: Strong antioxidant that keeps skin looking young while protecting skin from damage.
Skin Resource.MD kept important ingredients from the original serum formula, including AHAs glycolic acid and lactic acid, which renews skin, helps smooth fine lines and improves overall skin health and texture. The Alpha Hydroxy Skin Renewal Serum is $49 for 1.7 fluid ounces.
The BHA Treatment Gel formally Rescue Gel, used for acne treatment, has been reformulated to a clear consistency and to focus on primary beneficial ingredients. It is also now conveniently in a tube for easier dispensation and travel. The product includes lactic acid, BHA, and green tea extract to help manage and minimize blemishes by gently exfoliating and treating the skin. The BHA Treatment Gel is $20 for 1.2 ounces.
The Eye Perfection Therapy has also been repackaged in a newly designed tube for easy use and travel; it is $17.00 for 0.5 fluid ounces. The formula includes peptides, aloe vera, and green tea to give the skin around eyes more lift and support.
"At SkinResource.MD we will always upgrade our products to ensure that our customers have the best experience with high-end, natural and affordable ingredients," said Paul B. Dean, M.D., M.P.H., F.A.A.D., founder of Skin ResourceMD. "As consumers become more sophisticated with their knowledge of product benefits, they understand that AHAs and BHAs can result in smoother, younger looking skin. We want to make sure we put our best ingredients up front and visible."
These new products supplement the brand's selection of therapeutic skincare products that include moisturizers, cleansers, serums, sunscreens and exfoliants. The brand also offers products specifically formulated for particular conditions as well as kits intended for use following medical procedures.
For more information about Skin Resource.MD, go to https://skinresourcemd.com.
About Skin Resource.MD
Skin Resource.MD (SRMD) Cosmeceuticals was founded by board-certified, Award-winning dermatologists, practicing in San Diego for more than 35 years. SRMD products are doctor-formulated, fragrance-free, involve no animal testing, and are manufactured earth-friendly. As an online marketplace, SRMD passes savings onto customers, broadening access to excellent, therapeutic skincare products for all skin care needs. SRMD seeks to help all patients navigate the overwhelming amount of information on skincare products and ingredients, and encourages a simple regime with specialized products for patient distinct needs and skin conditions.
###