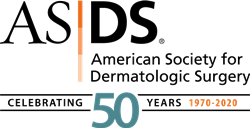 The course is an excellent review for surgeons of all levels including fellows and residents, even if he/she does not plan to take the exam.
ROLLING MEADOWS, Ill. (PRWEB) November 04, 2020
To help board certified dermatologists prepare for the American Board of Dermatology's (ABD) first ever Micrographic Dermatologic Surgery (MDS) Subspecialty Certification Examination next fall, the American Society for Dermatologic Surgery (ASDS) is pleased to present the MDS Exam Review Course virtually through ASDS Learn.
Co-directors Kishwer S. Nehal, MD, and Rajiv I. Nijhawan, MD, have put together a comprehensive review of dermatologic surgery fundamentals and key knowledge in high-yield content areas outlined by the ABD Study Guide. For more information about the exam, practice pathway and eligibility requirements, visit http://abderm.org.
"The course is an excellent review for surgeons of all levels including fellows and residents, even if he/she does not plan to take the exam," said Dr. Nijhawan. "It is a very comprehensive review of all the content areas that may be tested in the upcoming exam."
The course will be presented in a virtual, on-demand format with faculty including:

Murad Alam, MD, MBA
Sarah Arron, MD, PhD
Thomas Bander, MD
Jeremy S. Bordeaux, MD, MPH
David R. Carr, MD
Bryan T. Carroll, MD, PhD
Karen L. Connolly, MD
M. Laurin Council, MD
Brienne Cressey, MD
Alison Durham, MD
Matthew Fox, MD
Cerrene Giordano, MD
Nicholas Golda, MD
Hayley Goldbach, MD
Kelly Harms, MD, PhD
S. Brian Jiang, MD
Hillary Johnson-Jahangir, MD, PhD
Thomas J. Knackstedt, MD
Naomi Lawrence, MD
Ian A. Maher, MD
Christopher J. Miller, MD
Maxim Polansky, MD
Anthony M. Rossi, MD
Chrysalyne Schmults, MD
Valencia D. Thomas, MD
David Zloty, MD, FRCPC
At the conclusion of this course, participants should be able to:

Assess readiness for certification exam and to identify areas of individual competencies.
Describe the process of obtaining, processing and interpreting Mohs micrographic surgery (MMS) specimens.
Describe concepts related to wound healing as well as the appropriate use and execution of various reconstructive strategies.
Recognize safe and effective pre-, peri- and post-operative care.
Discuss the appropriate management of skin cancers, including the use of adjuvant and alternative strategies.
Identify the requirements of relevant regulatory authorities and to apply the principles of correct coding and documentation.
The course, exclusive to ASDS members, costs $199 and registrants will have access until Oct. 4, 2021. Attendees will be eligible to receive 6.5 AMA PRA Category 1 Credit(s)™ and should claim only the credit commensurate with the extent of their participation in the activity. ABD-approved self-assessment exercise is entitled up to 30 Self-Assessment Credits for MOC Component 2. Questions about the course can be sent to education@asds.net.
# # #
About the American Society for Dermatologic Surgery
The American Society for Dermatologic Surgery (ASDS) is the largest specialty organization exclusively representing dermatologic surgeons who have unique training and experience to treat the health, function and beauty of skin throughout every stage of life. ASDS members are recognized as leaders in the field of cosmetic and medically necessary skin surgery. They also are pioneers in the field; many are involved in the clinical studies that bring popular treatments to revitalize skin and fill and diminish wrinkles to the forefront. Their work has helped create and enhance many of the devices that remove blemishes, hair and fat, and tighten skin. Dermatologic surgeons also are experts in skin cancer prevention, detection and treatment. As the incidence of skin cancer rises, dermatologic surgeons are committed to taking steps to minimize the life-threatening effects of this disease. For more information, visit https://asds.net.
Follow ASDS Members on Facebook, Twitter and Instagram.
Locate a dermatologic surgeon in your area: http://asds.net/find