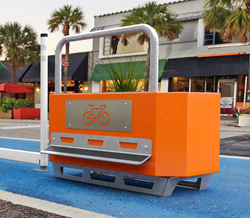 These multi-purpose planters are perfect for bike lane buffer zones: protective, green, portable, and customizable to promote community identity.
MINNEAPOLIS (PRWEB) September 19, 2018
Designed by DEZIGNLINE® and sold exclusively by Dero, STEELGREEN™ Planters are designed to create safer streets. These 4-foot long multi-purpose planters are perfect for bike lane buffer zones: protective, green, portable, and customizable to promote community identity. Manufactured by Dero with 100% steel and galvanized for rust resistance, the strong, durable basin is available in numerous colors, and their forklift-ready base can be anchored to the surface for added stability. Planters are also appropriate for transit corridors, streetscapes, pedestrian malls, urban plazas, corporate and academic campuses, and more.
For bike lane buffer zones at signalized intersections, add the PEDISTILL® Hand+Foot Rest, an optional accessory that turns STEELGREEN Planters into convenient red-light rest stops. Bicyclists grab, hold, and enjoy staying on their bikes while waiting for the green light. Available in galvanized finish, the PEDISTILL includes both the foot plate (complete with non-skid surface) and hand rail.
STEELGREEN Planters are customizable. Basins are available in a galvanized finish, or in a color that reflects your community's branding. Optional INFOPANELS™ (galvanized or color) are 24"L x 8"H removable steel panels featuring a standard bicycle graphic, city logos, or other custom imagery and even advertising.
STEELGREEN Planters are a part of the Streetscapes product line, which also includes BIKERAIL™. Cities can quickly and easily combine STEELGREEN Planters with BIKERAIL sections to create highly protective and aesthetically pleasing bikeway corridors. STEELGREEN™ Planters are patent pending.
ABOUT DERO
Since 1995, Dero has been supplying innovative bike parking and bicycle transit solutions to architects, contractors, municipalities, higher education, and parks and recreation. Its bike racks, repair stands and pumps, shelters, and lockers are high quality, thoughtfully designed, and secure. Dero also offers the award-winning Dero ZAP, an automatic system to track bike commuters. Dero, a PlayCore company, is located in Minneapolis and is proud to support biking locally and nationally. Dero is recognized as a Platinum level Bicycle Friendly Business℠ by the League of American Cyclists.
ABOUT DEZIGNLINE®
DEZIGNLINE is a branded suite of bicycle and pedestrian safety products offered by Dero and designed by Studio5051, LLC. Studio5051 is a Minneapolis-based design firm with 35+ years of experience in developing products and solutions that enhance the public realm. Working in partnership with urban design professionals, city officials and related stakeholders, Studio5051 created the DEZIGNLINE series to assist communities who are incorporating practical, efficient bicycle and pedestrian safety infrastructure into their transportation plans.