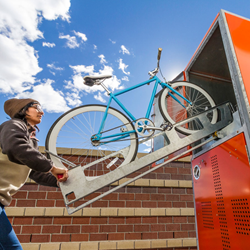 We're taking long-term bicycle storage to new heights with the Two-Tier Bike Locker...[and] ready to rock the world of public bike repair with the Dero Metal Head™
MINNEAPOLIS (PRWEB) October 17, 2018
Dero continues to innovate and improve its bike storage product line and public bicycle repair products with its new Two-Tier Bike Locker and new Metal Head™ for public bike pumps.
New 2-Tier Bike Locker
Dero takes long-term bicycle storage to new heights with the new Two-Tier Bike Locker. Building on Dero's popular single-tier bike locker platform and Dero Decker 2-tier bike rack, this multi-level locker is easy to load and provides a high-level of security.
The Two-Tier Bike Locker provides a space-saving solution to meet the increasing demand for covered bike parking. Municipalities, governments, universities, and businesses will love the sturdy steel construction with locking options that include a u-lock/padlock compatible handle or a keyed lock, while bicyclists will appreciate the enclosed security and optional gear hooks.
The Two-Tier Bike Locker ships flat to save on freight, comes in galvanized and powder coat finish options, and has a modular design.
New Dero Metal Head™
The new Dero Metal Head™ is ready to rock the world of public bicycle repair. As the only all-metal pump head currently available, the Metal Head's sturdy cast aluminum construction and easy-to-use functionality takes center stage. Additionally, the new pump head features universal Presta and Schrader valve compatibility, and its rubber gaskets are serviceable with a separately available kit. Paired with our steel-reinforced, rotating air hose and robust line of Air Kit bicycle pumps, people will be singing praises for the Metal Head's durability.
The new Dero Metal Head now comes standard with all Dero public bike pumps. For Air Kit 2 and Air Kit 3 pumps with the older plastic pump head, the Metal Head (with hose) is an easy replacement to update. Metal Heads require occasional maintenance and replacing of parts to remain serviceable.
ABOUT DERO
Since 1995, Dero has been supplying innovative bike parking and bicycle transit solutions to architects, contractors, municipalities, higher education, and parks and recreation. Its bike racks, repair stands and pumps, shelters, and lockers are high quality, thoughtfully designed, and secure. Dero also offers the award-winning Dero ZAP, an automatic system to track bike commuters. Dero, a PlayCore company, is located in Minneapolis and is proud to support biking locally and nationally. Dero is recognized as a Platinum level Bicycle Friendly Business℠ by the League of American Cyclists.