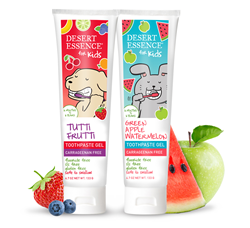 When toothpaste is safe to swallow it's easier to concentrate on good brushing techniques with children instead of worrying about harmful chemicals.
HAUPPAUGE, N.Y. (PRWEB) October 06, 2020
As if being quarantined with the kids for six months hasn't been hard enough, bedtime routines like brushing teeth haven't got any easier either. This October, though, thanks to BunBun and Sam the Dog, this battle may be won. Just in time for Dental Hygiene Month, Desert Essence is launching two new plant-powered gels that are safe to swallow. Tutti Frutti and Green Apple Watermelon flavors are specially formulated for ages 6 months to 6 years. Carrageenan-free and fluoride-free, the natural toothpastes feature colorful characters, BunBun and Sam the Dog, to encourage children to brush developing teeth and begin adopting healthy dental habits early in life.
Removing the worry of accidental swallowing of toothpaste, Desert Essence's new gels help strengthen and protect developing teeth. As children learn to follow a dental care routine, brushing teeth at least twice a day, these soothing Aloe-based formulas help to gently and safely remove plaque from teeth and gums.
"When toothpaste is safe to swallow it's easier to concentrate on good brushing techniques with children instead of worrying about harmful chemicals," says Christine Allmer, Desert Essence's marketing director. "BunBun and Sam the Dog can be used to make brushing teeth a fun activity, and the fruity flavors make it easier to introduce the toothbrush safely to younger children."
Desert Essence's BunBun and Sam the Dog recommend three top tips for Dental Hygiene Month:
1) Make brushing routines fun. Help children associate dental care with a song that lasts at least two minutes, so they learn how long to brush their teeth for.
2) Let children pick out a colorful toothbrush that is the right fit for their age and mouth size, and offer a choice of toothpaste flavors.
3) Set a great example by brushing, flossing and rinsing adult teeth with children present, and talk about the importance of good dental health for the whole family – even pets!
Desert Essence , a leader in the natural personal care space and #2 in the Oral Care market*, developed the children's toothpastes in response to consumer requests. The ingredients include Aloe, which is fortified with antioxidants and enzymes, to provide powerfully soothing hydration. Xylitol, a natural sugar alternative extracted from plants and vegetables, helps fight plaque and bacteria along with regular brushing. Calcium Glycerophosphate, a form of calcium, helps strengthen developing teeth. Parents are encouraged to apply pea-size amount of toothpaste on a child's toothbrush twice a day.
Made in the USA with globally sourced ingredients, Desert Essence's new children's toothpaste gels are also gluten-free and Cruelty-Free/ Leaping Bunny Certified. The products are available on the company web site, http://www.desertessence.com, and in select national retail stores. SRP is $4.99 for 4.7 oz.
Desert Essence was founded in 1978 and is a leader in natural personal care. The company draws its inspiration and ingredients from the desert, "a model of pristine balance and sustainability, where limited resources, if used responsibly, offer the body and spirit untold benefits." Using nutrient‐rich desert botanicals revered in native cultures for their healing properties, like Tea Tree, Jojoba, Aloe, and Argan Oils, Desert Essence's body, skin, and hair care products work in harmony with the body to soothe, nurture, and restore. True to its principle, the company works to ensure that both its products and practices reflect the serious commitment it has made to the health of the planet. Desert Essence is a Certified B-corp Corporation.
*Source: SPINscan Natural, 52 wks ending 6/14/20