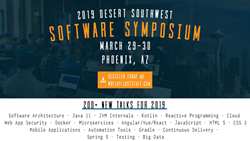 NFJS is known for its attendee-centric approach, excellent speakers and technically rich presentations which cover the latest trends in modern software development
PHOENIX (PRWEB) January 22, 2019
A training event for software developers will feature over 40 sessions that will train software developers on the latest languages, tools, and techniques for developing with the cloud, the web, databases, and mobile applications.
The "No Fluff Just Stuff" Software Symposium is scheduled for March 29-30, 2018 at the Sheraton Phoenix Airport Tempe in Tempe, AZ. Registration details are available online at NoFluffJustStuff.com. The conference, which begins at 8:30 a.m. on Friday and ends at 6:00 p.m. on Saturday, is expected to attract hundreds of developers and software architects from Phoenix and surrounding cities.
Topics include programming languages Java 11, Cloud, Vue, React, JavaScript, Software Architecture, and implementation tools, automation tools, and programming concepts such as continuous delivery, antifragile architectures and agility. Also on the schedule are sessions on web application security, microservice architectures; mobile applications, including talks on JVM, Android, iOS, and Mobile HTML; plus "soft skills" sessions on productivity, culture change, human memory optimization, learning skills and more.
Registration includes an all-access pass, breakfast, lunch, dinner and snacks; session materials, an NFJS backpack and t-shirt, free wifi access, and prize giveaways. Special hotel rates and group discounts are available. Visit NoFluffJustStuff.com for complete details.
Speakers scheduled to appear at the event include:
Venkat Subramaniam award-winning author, founder of Agile Developer, Inc., creator of agilelearner.com, and an instructional professor at the University of Houston.
Dr Subramaniam has trained and mentored thousands of software developers in the US, Canada, Europe, and Asia, and is a regularly-invited speaker at several international conferences. Venkat helps his clients effectively apply and succeed with sustainable agile practices on their software projects.
Craig Walls, author of "Spring in Action" and "Spring Boot in Action," is a senior engineer with Pivotal as the Spring Social project lead. He's a zealous promoter of the Spring Framework at local user groups and conferences.
Daniel Hinojosa is a programmer, consultant, instructor, speaker, and recent author with over 20 years of experience developing for private, educational, and government institutions. Daniel loves JVM languages like Java, Groovy, and Scala; but also dabbles with non JVM languages like Haskell, Ruby, Python, LISP, C, C++.
Kenneth Kousen is the author of the Manning book "Making Java Groovy," is a technical trainer, software developer, and conference speaker specializing in Java and open source topics, including Android, Spring, Hibernate/JPA, Groovy, Grails, and Gradle. He is also the author of the O'Reilly book "Gradle Recipes for Android."
Michael Carducci is a magician, full-stack developer, and technologist from Denver, Colorado. Michael Carducci has developed a CRM for the entertainment industry and will be speaking on modern web technologies, soft skills and the Micronaut framework.
Matt Stine is an 18-year veteran of the enterprise IT industry, Matt is the author of "Migrating to Cloud-Native Application Architectures" from O'Reilly. on lean and agile software development methodologies, DevOps, architectural principles, patterns and practices, and supporting microservices architectures with Cloud Foundry and Spring.
Raju Gandhi is a Raju Gandhi is a Java/Ruby/Clojure developer who has been writing software in several industries including education, finance, construction and the manufacturing sector. He'll present on web and cloud technologies.
Mark Richards is an experienced, hands-on software architect involved in the architecture, design, and implementation of microservices architectures, service-oriented architectures, and distributed systems. He has been in the software industry since 1983 and has significant experience and expertise in application, integration, and enterprise architecture.
# # #
About the The No Fluff, Just Stuff software symposium series
Launched in 2001, the No Fluff Just Stuff Software Symposium Tour has delivered over 400 technical training events with over 90,000 attendees. NFJS is known for its attendee-centric approach, excellent speakers and technically rich presentations which cover the latest trends in modern software development