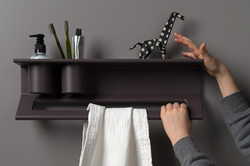 The new line from ThermoMat Italy includes ADA Compliant fold up shower seats, grab bars, and unique multifunctional shelves with added grip support. Italian design has long been known for its innovative contemporary looks and these products will delight home buyers.
MELBOURNE, Fla. (PRWEB) October 05, 2020
E&T Horizons introduces a new line from ThermoMat Italy that includes an extended range of designer shower and bathroom safety accessories marketed by Design By Intent®. With the aging in place movement more and more Americans are staying in their homes longer, and this necessitates products for the changing physical needs of older adults.
"E&T Horizons vision is to carve a new niche in the shower and bathroom safety market with products that are not only functional, but also sleek and beautiful." stated Terri Gelman, CEO and owner of E&T Horizons, LLC. We firmly believe there is a void in the market for designer styled safety bathroom furniture for consumers that have modern updated bathrooms and want an alternative to the traditional hospital styled safety products."
The new line from ThermoMat Italy -- https://www.decoteak.com/categories/disability-shower-seats.html -- includes ADA Compliant fold up shower seats, grab bars, and unique multifunctional shelves with added grip support. Italian design has long been known for its innovative contemporary looks and these products will delight home buyers. Products are available in a variety of designer colors to coordinate with modern bathroom decors.
Unique to the market is the concept of combining the functionality of a traditional grab bar, with the feature of a display and storage shelf. These can be used both in the shower, and in the bathroom by the toilet or in other areas. The support bar is weight supporting and provides for additional stability and anti-slipping. In addition, the grab bar offers dually functional as an attractive towel bar. The shelf can be used for display, or for storage of toilet and shower accessories. This collection even includes a stylish toilet paper roll holder with a support bar feature for assisting in standing up from the toilet.
The ADA Compliant fold up shower seats come in a variety of styles and colors that fuse functionality with designer style. They all support up to 330 pounds of weight, and neatly fold up against the wall when not in use. The material used in their construction makes them resistant to corrosion, or damage from soaps and shampoos.
A new line of ADA Compliant grab bars will appeal to consumers that wish to retain the elegance and sophistication of their contemporary bathrooms. Although there are hundreds of potential grab bar suppliers, very few offer designer styled ADA compliant products that are not Made in China.
The CDC estimates that every year over 235,000 people in the USA visit the emergency room due to injuries suffered in the bathroom. Over one-third of these injuries occur in the while bathing or showering. In a recent posting the Kitchen and Bath Industry Show (KBIS) noted that the need for shower and bathroom safety products extends well beyond the senior citizen market. They stated that in actuality 26% of Americans over the ages of 18 suffer from a form of disability that could impact their safety in the shower and bathroom.
These beautiful ThermoMat Italy products can be purchased at http://www.decoteak.com, as well as select luxury bathroom showrooms around the country.
ABOUT DESIGN BY INTENT®
Design By Intent® is focused on providing attractive and stylish shower and bathroom furniture and safety aids. The majority of handicap shower seating, and bathroom safety products have a very utilitarian, institutional, and medical feel to them. The Design By Intent® Innovato line of handicap shower chairs are stylish, aerodynamic, sleek, and have a designer feel to them. The SwapAble® line is the most flexible and modular shower safety family in existence. It provides for dedicated installation or interchanging components between handicap and non-handicap users. In addition it is the only shower chair where an individual can prepare for their future Aging in Place needs by installing a small mini-shelf (great for shaving legs in the shower), which at any point in the future can be interchanged with the mounted foldaway shower seat.
ABOUT E&T HORIZONS
E&T Horizons, a certified WBENC women's business enterprise, provides modern bathroom and shower furniture and accessories that are safe and functional, as well as beautiful and elegant. The company's newest brand, DesignByIntent, has searched the world over for bathroom and shower furniture that sets a new benchmark for the fusion of design, beauty and functionality. DesignByIntent is the exclusive North American distributor of Pellet, a sixty-year-old French company specializing in bathroom safety products. Both companies have a mission to provide products that are both elegant and functional. E&T Horizons provides a full range of solid teak bathroom and shower furniture through its other leading brands – DecoTeak®, EcoDecors® and CoastalVogue®. For more information, call 888-965-0070, contact sales@decoteak.com or visit http://www.DecoTeak.com.