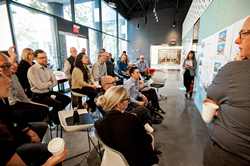 Every one of these leaders are fearless advocates of LPA's integrated collaborative process
Irvine, CA (PRWEB) January 29, 2019
Integrated design firm LPA has announced the promotions of several key leaders, recognizing their contribution to the firm's growth, collaborative process and sustainable design.
Three design leaders have been named firm Principals — Irvine-based Keith Hempel, and San Jose-based Arash Izadi and Patrick McClintock. Their work spans decades of designing transformative projects for developer, civic and sport and recreation clients.
"Every one of these leaders are fearless advocates of LPA's integrated collaborative process," said LPA CEO Wendy Rogers. "They value the input of their clients and colleagues, understanding these shared experiences elevate their project and create a better user experience and a more sustainable, healthier environment."
The new principals:
Design Director Keith Hempel has spent more than 20 years working with developer and workplace clients, including adaptive re-use and renovations, with a focus on sustainable design. His projects are developed around a client-centered approach, with an emphasis on the end-user and project's response to the environment.
Arash Izadi, director sport and recreation, is focused on the development of innovative and sustainable recreation and collegiate athletic facilities. A frequent speaker at industry events, his experience includes stadiums, sports centers, parks, community centers, aquatic facilities, tennis complexes, and regional and national sports parks.
San Jose Studio Director Patrick McClintock has helped design more than 5 million square feet of corporate, developer, civic and educational projects. His expertise in strategic planning, workshops and design development has helped shape projects that tell unique stories about people, place and space.
LPA also named five new Associate Principals in different disciplines, as the company continues to expand and grow expertise.
The new Associates Principals:
Nick Arambarri started as an intern and is now a managing director, directing teams focused on commercial development projects.
Franco Brown specializes in the design and planning of educational projects, which have earned more than 20 American Institute of Architects (AIA) design awards.
David Eaves joined LPA in 2002 and has managed a wide variety of California K-12 school projects.
Sara Flowers has spent the last 18 years working as both an architect and registered interior designer on education, civic, religious and commercial projects in Texas.
Kathereen Shinkai is the Managing Director of civil engineering at LPA, with extensive experience with all levels of local agencies.
The moves reflect the diversity of LPA's unique integrated practice, as well as the experience in multiple disciplines.
"LPA has an incredible deep bench of talented people that are committed to changing lives by design," said Dan Heinfeld, president of LPA. "These recent promotions are proof of the leadership and talent pool that is making a difference, one project at a time."
About LPA
Founded in 1965, LPA specializes in creating innovative environments that work better, do more with less and improve people's lives. An integrated design firm with six locations in California and Texas, LPA's team includes more than 450 in-house architects, master planners, engineers, interior designers, landscape architects and research analysts, working across a wide array of sectors. For more information, visit http://www.lpadesignstudios.com.