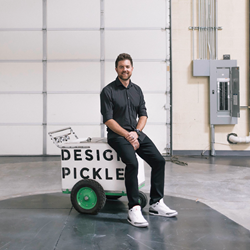 Our mission is to be the most helpful creative company in the world. To do this, we have narrowed our focus to incorporate our cloud-based design service into our clients
SCOTTSDALE, Ariz. (PRWEB) October 30, 2018
Design Pickle, the leading provider of unlimited, cloud-based design, announces its public integration with Zapier, an online automation tool that connects popular apps, such as Google Sheets, Slack, Basecamp and Asana, thereby eliminating tedious and time-consuming tasks without requiring code.
With Zapier's intuitive "point and click" interface, users can build "Zaps" that transfer data between apps based on triggers that set off particular actions. With this new integration, clients can transfer Design Pickle data to over 1,000 apps and automate design into their existing workflows effortlessly.
"Our mission is to be the most helpful creative company in the world. To do this, we have narrowed our focus to incorporate our cloud-based design service into our clients' applications and workflows," said Russ Perry, CEO, Design Pickle. "With the Zapier integration, our users are now instantly connected to over 500 apps and can easily automate recurring tasks. This will radically transform businesses that are looking to scale."
-- Russ Perry, CEO of Design Pickle
At launch, Design Pickle offers over 10 Zaps that users can use in addition to creating their own Zaps. Some examples include:
Stay in your cozy tent and submit design requests IN Basecamp (link)
Alert your team in Slack when an awesome new design is finished (link)
Organize your life by zapping finished designs into Google Sheets (link)
A directory of Design Pickle "Zap" recipes can be found here. Learn more about how to integrate Design Pickle into your workflow by visiting their Knowledge Base.
About Design Pickle
Design Pickle is the #1 cloud-based design company in the world. Founded in 2015 by Russ Perry, Design Pickle has served over 7,500 businesses with flat-rate, unlimited design. Their automated and systematized way to request, receive and collaborate on designs with talented designers helps businesses ​scale and work smarter.
Press Contact
Name: ​Kate Rooney
Email: ​kate@designpickle.com
Design Pickle
16414 N 91st St
Scottsdale, AZ 85260
Phone: (800) 527-4212
http://www.designpickle.com