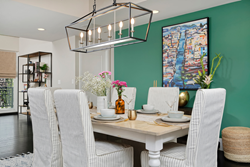 louis + rocco is an innovative solution for home decor rental.
DENVER (PRWEB) February 26, 2021
The louis + rocco decor rental service is a new tech platform designed for interior designers, stagers, and real estate brokers who need to accessorize a photoshoot or style a house. The brainchild of Denver interior designer Margarita Bravo, this service provides ease in sourcing design accessories so that stylers can have everything they need for maximizing the appeal of a space.
Traditionally, an interior designer would first have to source accessories at retailers, then drive around town to pick up and only later return accessories with all of the hassles, inconvenience, and inner conflict of that process. This burden is no longer needed as the louis + rocco service allows designers to focus on the creative process as once they choose the accessories, the products are delivered to them on the dates when they are needed and picked up once the job is done.
The company's offerings will be developed in several phases. Phase one will include a selected inventory of decor items held in-house. The products are tastefully curated and in a variety of styles, so designers have lots to choose from and something to suit every mood and theme. Many of the accessories are modern, sleek pieces with metal accents, clean lines, and made with a variety of materials. Think black candle stands, gold soap trays, abstract paperweights, printed throws, textured decorative boxes, and even stylish-looking trash cans. Accessories are categorized according to room type and include throws, pillows, candles, paperweights, tableware, frames, and decorative objects, to name a few.
"Today we commence our soft launch in the Denver market with our distribution center fulfilling all rental orders," shares louis + rocco's founder Margarita Bravo. "When we enter our second phase and launch nationwide, we will implement cutting-edge blockchain technologies that will use inventory decentralization as a way to leverage a distributed network of accessory providers across the nation, providing tens of thousands of items all available to arrive on any designated day. All this while being able to trace, track and verify the transactions and exchanges that take place with our decor products."
louis + rocco is the latest addition to Latina entrepreneur Margarita Bravo's lineup of services and products in the home design industry–another celebration of women empowerment and drive to contribute novel innovations to the market. This is Margarita's vision of utilizing advanced technology to meet the needs of the design sector.
louis + rocco decor rentals are available here: https://louisandrocco.com/
Follow on Instagram here: https://www.instagram.com/louisandrocco/