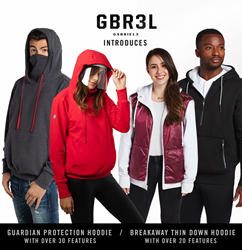 When social distancing is not always possible, we simply pull up our hood, deploy our mask and visor, click and zip the magnetic zipper, and we're protected in seconds
MONTREAL (PRWEB) November 20, 2020
Within one week of launching on Kickstarter the antimicrobial Gabriel3 Guardian and the Thindown™️ Breakaway hoodies have eclipsed the crowdfunding goal by 4-times, raising over $60,000-USD and counting.
The Guardian hoodie is designed to help protect from viruses, bacteria and flu and is always at-the-ready. With a hidden visor and mask, which are detachable, and a 'click and zip' magnetic zipper (30 features in all), it transforms the traditional hoodie into exceptionally crafted personal protective gear, while serving as the everyday go-to hoodie for comfort and style.
"We are grateful for the tremendous support consumers have given our campaign, and we are excited to receive validation from the market that the Guardian is the right product to help us transition to the new normal," said David Cockrell, Gabriel3 design director. "When social distancing is not always possible, we simply pull up our hood, deploy our mask and visor, click and zip the magnetic zipper, and we're protected in seconds."
Inside the hood lies a treasure of hidden features. A washable reusable triple-layer face mask can be pulled-out from the hood and a detachable visor glides down with ease to protect your eyes. The Guardian also includes a retractable anti-pathogen glove for opening doors and pumping gas; and a stylus pen for using at ATM's and points of sale.
The Gabriel3 Breakaway hoodie protects from cold and rain with its water-resistant Storm Cotton® shell and 'Move-Free Floating Liner' made with patented Thindown™, the warmest and thinnest insulation. Ronie Reuben, the inventor of Thindown™️ proposed this sustainable down liner as the perfect solution for the Breakaway since it is super light and reverses to a vest over the hoodie. Made by a revolutionary process that converts down fibers into a down fabric; it is down re-imagined, with no bulk, no cold-spots and no seepage. Like the Guardian, it is ideal for travel and is loaded with functional pockets for carrying all essential accessories.
Both the Breakaway and Guardian hoodies are available in zippered and pullover models. Multifunctional antimicrobial pants made for comfort and style are offered as well to complete the set.
In the cold or in a crisis, count on Gabriel3 for stylish and exceptionally crafted protection apparel.
For more information about all features and to purchase the patent-pending Guardian and Breakaway hoodies at early bird discounts, visit the Gabriel3 Campaign Page on Kickstarter.