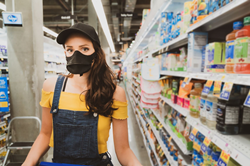 If we can get a large chunk of the country who are forgetful or aren't comfortable wearing masks, to start, then we are going to make a huge impact
BLUFFTON, S.C. (PRWEB) July 15, 2020
Hide-a-Mask, a hat with a hidden face mask, has launched on Kickstarter. When worn, 'protection is always at your fingertips' whenever required. It's the perfect hat for anyone who is forgetful or reluctant to wear a mask.
Many businesses are mandating customers wear a mask. Some municipalities are fining those who fail to wear one in public. A mask has become an accessory that people must have at the ready. Hide-a-Mask ensures a mask is always there when needed, and it eliminates the burden of carrying a mask and constantly taking one on or off.
"If we can get a large chunk of the country who are forgetful or aren't comfortable wearing masks, to start, then we are going to make a huge impact," said Tim Hickman Co-Founder of Hide-a-Mask. "COVID-19 infection rates are rising; infectious disease experts say wearing masks can turn that around. We've found a way to make sure a mask is fashionable, convenient and always at your fingertips."
Millions of people wear baseball caps for the comfort, sun protection and style. Hide-a-Mask is the perfect way to ensure that a large percentage of the population has protection at their fingertips. The company is also working with corporations that want to provide protection and branding to their employees and customers. Hide-a-Mask gives anyone who wears a hat an immediate way to deploy a stylish, breathable and highly protective face mask.
"As long as you have your trusty ballcap on, protection is always at your fingertips," said David Adam Co-Founder of Hide-a-Mask.
Designed with comfort in mind, Hide-a-Mask is snug but does not cause any pressure behind the ears because the straps are attached to the hat, not around the ears.
How it Works:

Reach into the cap to pull the mask down
When a mask is no longer required, simply push up and the Hide-a-Mask seamlessly adheres to the brim of the cap (via built-in, lightweight magnets)
The mask is easily removable for washing, and is quickly attached back into place
Hide-a-Mask will be available in several colors and designs. It looks great on men and women and will soon be available in kids' sizes. It's the perfect gift for friends or loved ones to encourage them to wear a mask without imposing a new routine. If they wear a hat, they can have a mask at their fingertips.
For more information and to pre-order a Hide-a-Mask at early bird discounts, visit the Hide-a-Mask crowdfunding page on Kickstarter.