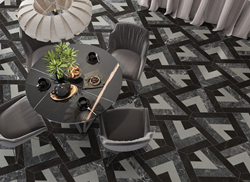 Marc and his team of gifted partners have designed 15 new Waterjet patterns and 6 stunning Skord patterns which exquisitely complement our existing line.
WINTER PARK, Fla. (PRWEB) November 21, 2019
Marc Thee, Principal and Co-Founder of Marc-Michaels Interior Design, Inc., is unveiling his new collection of tiles represented by Audrey Lane. Marc has created a new collection of waterjet and "skord" patterns that just launched in November and available to view online at audreylane.com.
Following suit with Marc Thee original patterns, you can design a truly bespoke tile surface with multiple color and scale customization capabilities. Audrey Lane designers are prepared to collaborate with you on custom projects if needed. Together we can discover what's possible in the world of design.
"For Audrey Lane, the opportunity to access Marc Thee's talent for our first designer collaboration has been more than exciting, said Holli Van Cleave, Co-Founder and Creative Director of Audrey Lane. Marc and his team of gifted partners have designed 15 new Waterjet patterns and 6 stunning Skord patterns which exquisitely complement our existing line. The collection consists of organic and graphic patterns meant to evoke positivity with a masculine appeal all while allowing you to create bespoke interior floor and wall spaces."
Audrey Lane is a luxury custom tile design firm that allows you the opportunity to create a one-of-a-kind custom tile pattern specifically for your projects. Their products are made of quality porcelain and give the look of natural materials without the upkeep of stone, wood or metal. For more information please visit http://www.audreylane.com