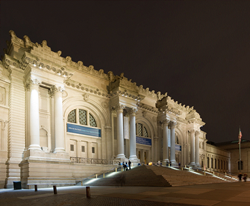 A wide range of colors, patterns, styles, and materials is essential for any couture-minded clothier.
LOS ANGELES (PRWEB) May 17, 2019
A May 8 article in Vogue detailed two museum conservators' efforts to display fashion design wunderkind Tomo Koizumi's works at the Metropolitan Museum of Art in New York City. The pair received around 170 original pieces of Koizumi's fluff-laden masterworks to display while Koizumi himself prepared for the opening gala. Koizumi, who personally makes all of his own pieces, started showing off his designs on Instagram before being discovered by leading couturier Giles Deacon. Online fabric seller Express Knit Inc. says that Koizumi's pathway to success is not that far from the many once unknown fashion designers of the past who started with nothing but ideas, fabrics, and a sewing machine – even if older designers couldn't get their work shown publicly with the click of a mouse.
The fabric wholesaler says that, like Koizumi, many fashionistas love to build their own clothes using fabrics they have purchased. These painstaking artisans call back to an era when clothing was nearly always made by someone the wearer knew personally, the company adds. Keeping that old tradition keeps an art form alive, it notes. The company also notes that even the largest manufacturer or head designer often maintains this same spirit of creativity and function.
Express Knit Inc. says that buying high-quality fabrics is a key element of any project though; it's simply not possible to create a fine article of clothing using substandard material. This is especially true for manufacturers and retailers who want to be thought of as purveyors of quality garments at all times, the company says. It is not enough for clothing to be attractive and fashionable, it should be durable and comfortable.
The fabric wholesaler says that fashionistas want options to fully explore their creativity. A wide range of colors, patterns, styles, and materials is essential for any couture-minded clothier, the company adds. In a world where more and more people are expressing their creativity to thousands of people online, having as many options at one's disposal as possible can make a big difference between standing out and being ignored.
Express Knit Inc. notes that, when it comes to fabric wholesalers, reliability is just as important as an outstanding selection of materials, especially for manufacturers with quotas and deadlines to hit. Designers simply can stay on top of ever-changing fashion trends.
Readers can learn more about Express Knit Inc. and their excellent services by visiting https://expressknitinc.com/ or by calling (213) 683-1515. The online fabric seller offers flat rates on shipping on all orders within the United States, including free shipping for orders totaling $100 or more.