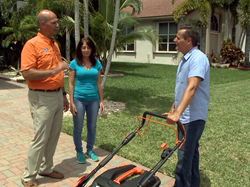 "This lawn mower has a lot of power," said Eric a Designing Spaces Homeowner
Atlanta, GA (PRWEB) August 10, 2017
The new Yard Force 120vRX cordless 22" lawn mower, 18" grass trimmer and blower will debut on the Designing Spaces DIY episode on Lifetime Network on Thursday, August 10th at 7:30PM. Lori, a homeowner that participated in the Designing Spaces episode stated that tools have "gas-equal performance, less maintenance, mess, smell and noise, we like all Yard Force 120vRX cordless products".
The Yard Force 120vRX cordless 22" self-propelled lawn mower is the first cordless lawn mower with the power, torque and runtime that provides the same performance as a 160cc gas engine with a better cut for a healthier lawn. "This lawn mower has a lot of power," said Eric a Designing Spaces Homeowner
"The 120vRX takes cordless technology to the next level, it truly competes with equivalent gas products," says John Plocic, President of Merotec Inc. the North American business unit of SUMEC Hardware & Tools. Each tool in the series, 22" lawn mower, 18" grass trimmer and a 580 CFM blower, uses a powerful brushless DC (BLDC) motor and high capacity Lithium-Ion battery which provides the power and torque of gas. The powerful 120vRX series of tools is back by a 5 year warranty.
The Yard Force YF120vRX 18" blower with push button start and 3 speed control with cruise-control produces 140 MPH / 540 CFM of air power. The handle is well-balanced for easy control and includes effortless on/off push-button controls at your fingertip.
Designing Spaces homeowners Lori and Eric experienced the ergonomic design of the Yard Force 18" grass trimmer. With special design and placement of the handle and battery the grass trimmer balance and control decreases hand and arm fatigue.
The Yard Force 120vRX takes green technology to the next level. The two Lithium-Ion batteries that power the mower provide enough green energy to cut more than 1/2 acre on one charge. The Designing Spaces Homeowners enjoyed the benefits of battery technology over gas including the convenience, quietness, portability, no mess storage, no fumes and the easy start-up with a simple press of a button.
"Designing Spaces™" is the signature women-focused home improvement show that travels all over the country remodeling, redesigning and redefining the spaces we call home.
The show brings viewers innovative home remodeling, home decorating, and home design ideas, do-it-yourself projects, and step-by-step transformations to inspire women everywhere to take on their home improvement challenges and decorating dilemmas. The mission of "Designing Spaces" is to make every space count and offer trusted solutions so viewers will love where they live, work and play."
As a subsidiary of Fortune Global 500 ranked Corp SINOMACH, SUMEC continues to look for disruptive technology to create exceptional value for our customers, to strive to deliver the best to our customers." says Liu Kai, President of SUMEC Hardware & Tools.
More Yard Force 120vRX cordless outdoor tools launching in 2018 include a chainsaw, pressure washer and snow thrower.
About SUMEC
Founded in 1997 in Nanjing, China, SUMEC is a manufacturer of innovative indoor and outdoor power tools and equipment in battery, electric and gas power platforms for the global market. Headquartered in China with divisions for R&D and marketing in North America, UK, Europe and Australia – SUMEC is emerging as the leader for performance, innovation and quality in power garden products with its Yard Force® brand offering a full range of high pressure washers and lawn care products. For more information, visit http://www.sumecpower.com or http://www.merotecusa.com.