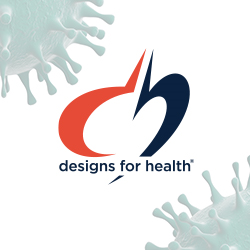 The test is one of the first indicators that will help organizations, companies, medical professionals, etc., to begin the process of assessing how to roll out a back to work strategy.
PALM COAST, Fla. (PRWEB) April 14, 2020
Designs for Health, Inc. (DFH) – a leading practitioner-channel dietary supplement and nutraceutical company, announces the first company-wide coronavirus antibody testing will be taking place for their employees and contractors on Thursday, April 16th. The FDA-approved blood serum test is designed to detect antibodies to the virus that causes COVID-19 (the virus is named SARS-CoV-2.) Antibodies are produced by your immune system as part of its response to fighting foreign invaders like viruses. Test results may indicate one of three primary outcomes:

Active infection
Past infection and some level of immunity
No exposure and no immunity
The level of immunity and the length of time it lasts are not known, but researchers are actively working to understand this. According to Dr. David Brady, Chief Medical Officer, for both Designs for Health, Inc., and Diagnostic Solutions Laboratory, "The test is one of the first indicators that will help organizations, companies, medical professionals, etc., to begin the process of assessing how to roll out a back to work strategy. Currently there are no guidelines as to how companies and people should prepare for this, though we believe tests such as this will form part of this guidance."
Diagnostic Solutions Laboratory (DSL) has developed three critical tests for COVID-19 and SARS-CoV-2: an oral and nasopharyngeal swab diagnostic test for COVID-19, and a stool analysis and blood serum test for SARS-CoV-2. The blood serum test provides information about whether an individual's immune system has responded in some way to an exposure to SARS-CoV-2. The results will help understand whether an individual has been exposed to the virus, and if so, whether some level of immunity is present. This test can be used for screening of both people with symptoms and people without symptoms, which is extremely important as recent studies suggest a high percentage of people who carry the virus show no clinical symptoms. As a blood draw is necessary, these tests will only be conducted under the order of an appropriately licensed healthcare provider and administered by licensed phlebotomists, and the results are strictly governed by HIPAA regulations. "This is a much more accurate test than the bloodspot test that is also currently being used on individuals who are asymptomatic. Without doing a blood draw and getting enough serum, you cannot accurately find people who have been exposed in the past, and, more importantly, have some level of immunity," commented Tony Hoffman, President and CEO, Diagnostic Solutions Laboratory.
As an essential business, DFH, has been working to maintain adequate supplies of much needed dietary supplements and nutraceuticals to meet physician and consumer demand. Jonathan Lizotte, Founder and Chairman of Designs for Health, Inc., felt that taking this first step towards trying to normalize the process of returning to work would help give employees some peace of mind. "We are living in unchartered times and whatever we can do to help people through this terrible crisis we will," said Lizotte. "All the tests will be performed by Diagnostic Solutions Laboratory, and the results will be sent directly to each individual along with general information about the range of possible results. DFH will have no access to the employees' individual results, which are their personal health information. We have instructed people whose antibody test shows they may be fighting an active infection to self-quarantine and contact their healthcare provider right away. If the results indicate a past infection and current immunity, they may be a good candidate to donate plasma. We will provide information about where employees can donate plasma in their local areas when this information becomes available. At the end of the day, the health of everyone in our company is a top priority for us."
According to experts, it will be important to understand how much the SARS-CoV-2 virus has spread throughout society, and while the logistics of testing everybody will not be feasible, gathering data from a statistically relevant number of the population will be critical in understanding long term health implications and treatments.
As companies, states and governments look to both health and economic recovery, it will take a concerted effort from both the public and the private sector to navigate short- and long-term strategies that are both equitable and sustainable.
Testing for DFH employees and contractors will be taking place on Thursday April 16th in the following locations, maintaining the appropriate social distancing, hand hygiene, and enhanced sanitation guidelines:
FLORIDA: 14 Commerce Blvd, Palm Coast, FL 32164
CONNECTICUT: 980 South Street. Suffield, CT 06078.
Testing will be made available to employees and contractors at other US and international DFH locations as soon as phlebotomists become available and regulations allow.
About Designs for Health:
Family-owned Designs for Health, Inc. offers high-quality dietary supplements and functional foods to healthcare professionals and their patients. Guided by its founding philosophy of "Science First," the company holds an unwavering commitment to creating research-driven formulations with meaningful quantities of therapeutic ingredients that maximize the potential for successful health outcomes. For over 30 years, Designs for Health has been many healthcare professionals' trusted source for not only product innovation, but also leadership in clinical education and practice development solutions.
To learn more, visit https://www.designsforhealth.com or call 800.847.8302.
About Diagnostic Solutions Laboratory:
Diagnostic Solutions Laboratory is the leader in DNA-based functional medicine testing. In addition to the new COVID-19 SARS-CoV-2 testing options, DSL offers the GI-MAP stool test, which accurately and quantitatively detects parasites, bacteria, fungi, and other opportunistic organisms to provide insight into gut and immune health. DSL also offers the GenomicInsight™ Genomic Health Profile, which uses the advanced artificial intelligence powered by Opus 23 Explorer® to provide unique insight into patient genomics.
Learn more about Diagnostic Solutions Laboratory and its testing at https://diagnosticsolutionslab.com or call 877-485-5336.
For media inquiries, or to arrange interviews, please contact Giselle Chollett at giselle@adinnyc.com, or 917.386.7116.