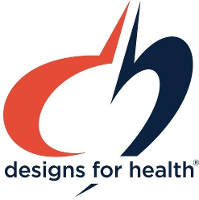 A ketogenic diet will help the body become more metabolically flexible and able to efficiently generate energy from the ketones produced.
PALM COAST, Fla. (PRWEB) November 06, 2019
Designs For Health (DFH) – a leading practitioner-channel dietary supplement company, is using its science-based nutrition philosophy to raise awareness about the critical role of a healthy lifestyle in the prevention of type 2 diabetes, which research suggests can also help reverse its progress. This is very encouraging, especially since 30 million Americans have diabetes, according to the Center for Disease Control and Prevention (CVC).
Low carbohydrate and ketogenic diets are a slam-dunk for type 2 diabetes, assures Certified Nutrition Specialist (CNS) and DFH spokesperson Amy Berger, who suggests that "If you have a condition defined by high blood sugar, one potential solution is self-evident: avoid foods that raise blood sugar the most. For most people, this means refined sugar and sugar in general, but for many it also includes starchy foods that might be generally wholesome and nutritious, but which are simply too high in carbohydrates for people with type 2 diabetes."
Berger notes that the American Diabetes Association, in a consensus report published in May 2019, acknowledged that, "Reducing overall carbohydrate intake for individuals with diabetes has demonstrated the most evidence for improving glycemia and may be applied in a variety of eating patterns that meet individual needs and preferences."
Jason Bosley-Smith, MS, LDN, CNS, FDN and Director of Education at Designs for Health (DFH), explains that "If you have been diagnosed with diabetes or if your physician has shared that your blood work indicates a pre-diabetic state, transitioning to a ketogenic diet will reduce high blood sugar levels by lowering the carbohydrates you consume. With less sugar and carbohydrates being introduced into your body, your cells will begin responding better to hormonal signals that help regulate your metabolism," adding that, "this may help you shift away from insulin resistance - a physiological state where your body is unable to effectively utilize sugar or glucose for energy production."
As an alternative, Bosley-Smith explains that a ketogenic diet will help the body become more "metabolically flexible" and able to efficiently generate energy from the ketones produced. This insulin resistant state is associated not only with diabetes, but also with weight gain and other complications that accompany it. Research indicates that, while not necessarily the primary goal of a ketogenic diet, many individuals lose weight when they reduce and restrict carbohydrate intake and adopt a keto approach.
For this regime, individuals should focus on low-carb meals featuring non-starchy vegetables, moderate amounts of protein from meats and poultry, and plenty of healthy fats from foods such as olive and coconut oil, fish, and nuts. There are also great keto snack choices that will help curb sweet cravings. DFH recently launched their KTO-360TM product line made with the keto-friendly, next-generation sweetener, Allulose.
There has been progress around the disease nationwide; researchers reported earlier this year that new cases of diagnosed diabetes dropped 35% while no increase was detected in total cases (CVC Report). Part of this is due to increasing awareness, changes in diet and physical activity, as well as diagnostic and screening practices.
About Designs for Health:
Family-owned Designs for Health offers high-quality dietary supplements and functional foods to healthcare professionals and their patients. Guided by its founding philosophy of "Science First," the company holds an unwavering commitment to creating research-driven formulations with meaningful quantities of therapeutic ingredients that maximize the potential for successful health outcomes. For nearly 30 years, Designs for Health has been many healthcare professionals' trusted source for not only product innovation, but also leadership in clinical education and practice development solutions. To learn more, visit https://www.designsforhealth.com or call 800.847.8302.
For media inquiries, please contact Giselle Chollett at giselle@adinnyc.com or 212-693-2152.