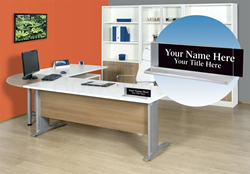 The Executive Glass Green Acrylic Name Plates are the perfect addition to our business office! Chic, professional, and affordable, Plastic Products Mfg new Office Name Plate Holders are a must for employee workstations.
YORBA LINDA, Calif. (PRWEB) October 09, 2018
The latest look in Desk Name Plates has arrived in several distinctive new designs, exclusively at Plastic Products Mfg. Geared to showcase inserts in the most popular sizes, 8-1/2" x 2" and 8-1/2" x 2-1/2", this Acrylic Desk Name Plate selection has been assembled to fit any professional setting. As part of the new introduction, FREE Name Plates are included with select sizes. They're made of heavy gauge perforated card stock that will provide exceptional stability.
Among these exciting new additions to a stellar line of Office Desk Name Plates are SBT Clear, NPBR Clear & GG, NPAA Clear & GG, and NPA2 Clear & GG. This diverse range of display alternatives delivers a sharp combination of style and function, drawing eyes to name/title inserts as well as office signage and directional signs.
SBT Clear Slanted Desk Name Plates feature a unique two-piece design and an elegant look. A sturdy Name Plate Base supports this dynamic deluxe premium thickness acrylic display. The Slanted Acrylic Desk Name Plate is angled to catch the eye, giving inserts 8-1/2" x 2-1/2" a prominent spotlight. Built to last with a slanted opening, this Office Name Plate stands upright for easy viewing.
NPBR Clear Name Plate Holders have a double-sided, upright display. These classic Desk Nameplates feature exceptional durability and toughness in premium clear acrylic 3/32" thick. Inserts load easily from either side with unique visibility from desktops and countertops. It's an excellent Name Plate Holder for custom displays and a variety of signage needs.
The NPBR GG Glass Green Desk Nameplate adds another level of distinction. Side-loading 8-1/2" x 2-1/2" inserts fit perfectly, and the glass green approach makes for an effective display in a crystal-clear acrylic design. The sturdy base makes it tip-proof on any flat surface in any strategic location.
Slant-back design in clear acrylic and classy glass green set NPAA Clear and NPAA GG Desk Nameplates apart. Angled for easy reading, they make ideal alternatives for Personalized Office Desk Name Plates with highly visible 8-1/2" x 2-1/2" inserts. The NPAA Glass Green approach adds an element of modern elegance in a timeless material. Perfect for titles, departments, and multiple Name Plate options on desks and countertops.
Similarly, attractive Office Name Plates with stainless steel posts are also now available in NPA2 Clear and NPA2 GG. These Professional Office Desk Name Plate Holders add an upscale look to today's modern office décor. The combination of exquisite glass green is especially eye-catching with defined edges and the metal accents in each corner. It's the "Executive" look in Name Plate Holders!
Orders are now being taken for each of these new Desk Name Plate lines. Help is available with Customer Service Representatives at Sales@PlasticProductsMfg.com. Immediate orders may also qualify for those FREE Name Plates to be included with select sizes...heavy gauge perforated card stock providing excellent stability! Limited time offer.