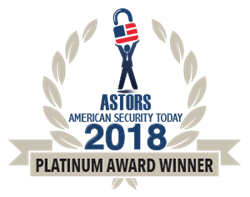 We are honored by these awards but would be remiss if we did not thank our nations National Guardsman at both the local and federal level for their support over the last ten years, said Howard Ryan, Owner Desktop Alert Inc.
NEW YORK (PRWEB) November 26, 2018
Desktop Alert Inc. and its wholly owned subsidiary Metis Secure Solutions today announced as the recipients of two Platinum Awards at the 2018 'ASTORS' Homeland Security Award Conference by American Security Today. The winning categories were: 'Best Emergency Response Program for Federal/State or Local' by Desktop Alert and 'Best Emergency Help Station/Technology' by Metis Secure Solutions.
The Annual 'ASTORS' Awards is a prestigious program that highlights the most cutting-edge and forward-thinking security solutions coming onto the market today. The program is specifically designed to honor distinguished government and vendor solutions that deliver enhanced value, benefit and intelligence to end users in a variety of government, homeland security and public safety vertical markets.
"As the nation continues to respond to escalating threats from home and abroad, the innovative solutions being implemented to meet those threats, has led to tremendous growth in the field of Homeland Security," said Michael Madsen, cofounder and publisher of American Security.
"Today, the United States is increasingly focusing on protecting IT/cyber security networks and they are calling on innovative companies like Desktop Alert and Metis Secure Solutions to help them do so. 'ASTORS' nominations are evaluated on their technical innovation, interoperability, specific impact within the category, overall impact to the industry, relatability to other industry technologies, and application feasibility." Madsen added.
'ASTORS' Winner Desktop Alert was selected for providing Enterprise Level Mass Notification to the US National Guard for 10 years straight. "We are honored by these awards but would be remiss if we did not thank our nations National Guardsman at both the local and federal level for their support over the last ten years. Our mass notification platform fits both NGB and ANG installations and wings like a glove and things like this just cannot happen without time, lessons learned and best practices", said Howard Ryan, Owner Desktop Alert Inc.
'ASTORS' Winner Metis Secure Solutions was selected for its ability to most effectively mitigate in-building emergencies such as an active shooter event. "Built by Engineers, Scientists and Students at Carnegie Melon University, Metis Secure Emergency Help Stations differ from other wall mounted alerting solutions because the solutions are not just dumb terminal beacons flashing lights and beeping tones but rather a state-of-the-art all-inclusive bi-directional communication platform replete with location-based services, flashing lights, LAN, Cellular, FM and wireless mesh connectivity, built-in two way intercom technology, real-time video and of course a standard built-in panic button." Ryan added.
About Desktop Alert Inc. https://www.desktopalert.net
Desktop Alert is a leading provider of enterprise mass notification and emergency communications products and services to the United States Department of Defense, NATO, Federal Government and First-Responders around the world. Its innovative and patented software has been internationally recognized as a "Best Mass Notification" and "Best First Responder Interoperable Communications" system. Desktop Alert provides a suite of scalable, flexible, and adaptable communication, collaboration, and situational awareness tools in environments ranging from austere - no terrestrial infrastructure support - to fully modern with extensive IP and legacy system integrations. Desktop Alert optimizes the communications flow with timely, accurate information to ensure effective decision making, coordination, proactive community engagement, and public awareness.
About Metis Secure Solutions: https://www.metissecure.com
Metis Secure develops advanced emergency communications and notification systems that help organizations respond to emergencies much more rapidly and effectively. Metis Secure users include manufacturing and research facilities, universities and schools, commercial office buildings, large parking garages, and others. In a crisis, fast, effective emergency communications can make the difference between a relatively contained event and a major catastrophe that includes multiple injuries or loss of life, destruction of assets, and a public relations disaster.
To learn more visit http://www.americansecuritytoday.com,