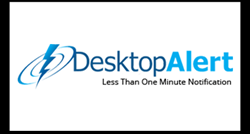 When live are at stake, seconds count, Howard Ryan
CHATHAM (PRWEB) August 31, 2018
Today Desktop Alert Inc. announced it has attained 100% deployment of the companies "Less Than One Minute" Version 5.X NAS Alerting platform to its Department of Defense clientele.
DISA Certified Desktop Alert NAS Platform Now at Hundreds of Military Locations Provides 10 Second Polling for Alerts. Drastically outperforms all certified DoD Systems by several minutes.
"All of our military clientele now retains the ability to in-place a polling rate of 10 seconds or more. This is borderline analogous to instant messaging. As low as six times per minute the DoD certified Desktop Alert Mass Notification Platform checks for active alerts for the client's entire population. This is unmatched at DoD and across the industry at large. Our patented NAS alerting system is now without question best-of-breed when it comes to alerting speed. When lives are at stake, seconds count. Not several minutes. Unacceptable", said Howard Ryan, owner Desktop Alert Inc.
Desktop Alert promotes a decentralized approach to alerting with a Cloud centralized management component vs. a Cloud only solution and cites a recent active shooter event at Fort Hood where the companies NAS, email and texting solution notified the targeted personnel and populace several minutes before the AtHoc Cloud alert solution.
"We stand by the facts. And we are highly appreciative of the phone call from Fort Hood informing us that our alerting system was highly successful during the event including General Ray Odierno's comments on the event. As company we remain in second place across the DoD for NAS alerting but we are resolute and steadfast in our commitment and dedication to the Department of Defense. Day by day adoption of our platform continues to grow. The results are out there in ink, past performance reports included not to mention for a damn good price.." Ryan added.
About Desktop Alert Inc.https://www.desktopalert.net
Here is a list of all Desktop Alert Inc. Press Releases
Desktop Alert is a leading provider of enterprise mass notification and emergency communications products and services to the United States Department of Defense, NATO, Federal Government and First-Responders around the world. Its innovative and patented software has been internationally recognized as a "Best Mass Notification" and "Best First Responder Interoperable Communications" system. Desktop Alert provides a suite of scalable, flexible, and adaptable communication, collaboration, and situational awareness tools in environments ranging from austere - no terrestrial infrastructure support - to fully modern with extensive IP and legacy system integrations. Desktop Alert optimizes the communications flow with timely, accurate information to ensure effective decision making, coordination, proactive community engagement, and public awareness.