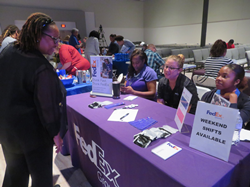 "To see the work done in preparation for the DeSoto Works! Job Fair by hard working volunteers behind the scenes, the collaboration of organizations, and the employers who hired several people on the spot was a beautiful picture of what happens when communities come together for the common good."
DESOTO, Texas (PRWEB) September 20, 2019
Over 30 local and regional employers from the Dallas Fort Worth Metroplex spent the afternoon of Wednesday, September 11, 2019, meeting with more than 200 job seekers to discuss new career opportunities at the Second Annual DeSoto Works Fall Job Fair held at the Disciple Central Community Church in the city of DeSoto, Texas, just south of Dallas.
The DeSoto Works job fair is traditionally held in the spring and appeals to DFW area job seekers looking for a career change or part-time or seasonal positions. The event is spearheaded by DeSoto Councilwoman Candice Quarles and hosted by the DeSoto Economic Development Corporation (DeSoto EDC) in partnership with the City of DeSoto, Disciple Central Community Church (DC3), the DeSoto Chamber of Commerce, and Workforce Solutions Greater Dallas.
"The job opportunities and career options for the residents of DeSoto are growing day by day, but not every potential job candidate is aware of all of the options that are available to them. That's why a job fair like DeSoto Works is such an important event," observed DeSoto Mayor Curtistene S. McCowan. "I am thankful to everyone who contributed to the success of this important gathering, especially Dr. Marcus D. King for hosting the event at Disciple Central Community Church, and to all of our civic partners and businesses who participated in Wednesday's fair. I was also heartened to see the great turnout by our residents and those from other Best Southwest Partnership cities who recognized the many opportunities that await them here in DeSoto."
In addition to employment opportunities, job seekers were able to take advantage of free onsite child care services and attend several financial planning, budgeting, and resume writing workshops provided by career brand strategist Latrice Collins.
Disciple Central Community Church has hosted the DeSoto Works Job Fair since its inception in 2017. DeSoto City Councilwoman Candice Quarles champions the initiative and said, "We had many repeat employers who have asked to be invited back to our event in the spring. To see residents participating from DeSoto, Duncanville, Lancaster, and Dallas is very encouraging." Pastor Marcus D. King added, "The DeSoto Works Job Fair once again was a tremendous asset to the lives of several hundred individuals who needed employment. Disciple Central Community Church is proud to host and partner with this life changing event and we look forward to do doing so for many years to come."
ABOUT DESOTO ECONOMIC DEVELOPMENT CORPORATION
The DeSoto Economic Development Corporation (DeSoto EDC) is a non-profit organization funded by sales tax revenue to foster local prosperity while maintaining an excellent quality of life and minimizing local ad valorem taxation. The DeSoto EDC aims to assist businesses with a seamless relocation assistance process to DeSoto by providing site selection searches, competitive incentives, a skilled workforce and a prime location in the Dallas/Fort Worth metroplex. Whether your company needs a new commercial office building on Interstate 35, a manufacturing facility on a hill overlooking downtown Dallas, a fulfillment warehouse, or a service-oriented facility, DeSoto is the place to build your business, raise your kids, enjoy life and retire in style. For more information, visit our website at http://www.dedc.org.