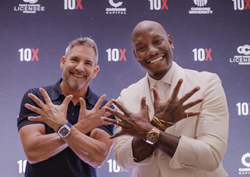 I had promised my audience a live event since the country shut down one-year ago, and the only thing we changed was that we went bigger.
MIAMI (PRWEB) March 23, 2021
On March 12-14, 2021, star of Undercover Billionaire and founder of the 10X Movement, Grant Cardone, hosted a live event safely for +2,000 entrepreneurs at the JW Marriott Turnberry Resort in Miami. Cardone said, "I had promised my audience a live event since the country shut down one-year ago, and the only thing we changed was that we went bigger. We had over 2,000 live with us at the world class Turnberry Resort and another 27,000 watching online."
The 10x Growth Conference provided a once-in-a-lifetime opportunity for business professionals to experience invaluable industry insight and training to help them successfully grow their businesses and networks, times ten or 10X. Cardone outdid himself this year with a highly impressive line-up of A-list speakers, celebrity entrepreneurs, entertainers and athletes who were able to share their stories of adversity, success and entrepreneurial tips with attendees and included; rapper Armando Christian Perez (aka. Pitbull); Yankee Superstar, Alexander Rodriguez; Fast & Furious star, Tyrese Gibson; Discovery Channel TV star, Mike Rowe; venture capitalist and Shark Tank's Mr. Wonderful, Kevin O'Leary; CEO of Kind Lending and Undercover Billionaire season one star, Glenn Stearns; digital marketer, Swan Sit; scaling expert, Brandon Dawson; hospitality mogul, David Grutman; entrepreneur, Cindy Eckert; billionaire CEO of eXp Realty, Glenn Sanford; entrepreneur, Jesse Itzler; real estate mogul, R. Donahue Peebles; business expert, Pete Vargas; and author and empire builder, Elena Cardone, who delivered a standing ovation keynote.
Cardone is known for delivering memorable surprises for his audience, especially when some guests are paying as much as $20,000 per seat. Last year, Cardone shocked everyone with surprise drop ins from actor, John Travolta; boxer, Floyd Mayweather; and TV personality, Dana White. This year, in an attempt to outdo himself, he brought up NFL legend, Drew Brees, who announced his retirement moments after leaving the 10X stage; fashion icon, Tommy Hilfiger; Shark Tank star, Daymond John and wife, Heather John; and TV personality fireball, Bethenny Frankel, who returned for her second time to the 10X Conference stage.
In true Miami form, the weekend was not without its line-up of after-parties with star entertainers and included a kick-off event on Thursday night hosted by DJ Khaled at the Turnberry Resort; a VIP party at LIV nightclub on Friday night with a performance by rapper, 50 Cent; and an exclusive cruise on the ultra-luxe Seafair mega yacht on Saturday night around Biscayne Bay with rapper, Fat Joe; all of which was concluded by a mesmerizing firework display. When Cardone was asked if he was scared to host a live event again, he said, "It's not fear that guides my life, it's courage."
Over the weekend, The Grant Cardone Foundation, whose goals is to impact One Million lives in 2021 by providing education, mentorship and guidance to at-risk adolescents, raised almost one million dollars towards their mission. The Foundation's Initiatives for this year include a first-generation scholarship for at-risk students, educational workshops across the US and a 10x global incubator to teach entrepreneurship in impoverished communities.
Despite the challenges of the pandemic and many other live events being cancelled, the 10x Growth Conference featured attendees from over +97 countries and set the standard on how to host in-person events again safely. Attendees were required to pass through temperature check points and wear masks while on property and hand sanitizing stations were positioned throughout the venue. With a production value of over $3.5 Million, this showstopper event took over the entire Turnberry Resort, turning it into the '10Xberry' for the weekend. With seats for 2022 already selling out, this can't-be-missed event shows that you can bring back in-person experiences again and do it safely.