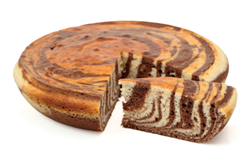 We're pleased to name Amazing Clubs our highest ranking provider of Dessert Clubs in 2018.
OVERLAND PARK, Kan. (PRWEB) December 06, 2018
Amazing Clubs, a market leader in Dessert Clubs, receives a best-in-class 5-star rating from TopConsumerReviews.com.
Press Release Body
TopConsumerReviews.com recently awarded its highest ranking to the Amazing Clubs Dessert Club, a recognized expert among services that offer Dessert Club subscriptions.
One of the biggest trends in gift-giving today is the subscription club: monthly, bi-monthly, or quarterly deliveries of surprises ranging from flowers to fruit. For people trying to find the perfect gift for a friend, family member, or coworker with a sweet tooth, Dessert Clubs provide a convenient solution that's sure to delight. These subscriptions typically include traditional cookies and brownies, along with more novel treats like cakes and pastries. Delivered directly to the home or office, Dessert Clubs make it easy to give a gift to the person who has everything.
"You can't go wrong when it comes to choosing Amazing Clubs for your Dessert Club subscription," affirmed Brian Dolezal of TopConsumerReviews.com, LLC. "Offering a wide variety of monthly gift clubs, Amazing Clubs knows what it takes to make customers happy: quality products, on-time deliveries, and excellent customer service. Their Dessert Club offers membership plans ranging from three to twelve months, and gift-givers can take advantage of flexible delivery schedules and payment plans. We're pleased to name Amazing Clubs our highest ranking provider of Dessert Clubs in 2018."
To find out more about the Amazing Clubs Dessert Club and other providers of Dessert Club memberships, including reviews and comparison rankings, please visit the Dessert Clubs category of TopConsumerReviews at https://www.topconsumerreviews.com/dessert-clubs/.
About Amazing Clubs
Amazing Clubs was founded in 2003 with the purpose of providing the highest quality gourmet items available to their membership customers. In the years since, their subscription clubs have expanded to include more than three dozen categories, from coffee and tea to candles and dog treats. Based in Stamford, CT and with offices in two other states, Amazing Clubs has been featured in The Wall Street Journal and USA Today and its over two million customers make them the largest Gourmet Gift of the Month Club retailer in the world.
About TopConsumerReviews.com
TopConsumerReviews.com, LLC is a leading provider of reviews and rankings for thousands of consumer products and services. From Dessert Clubs to Chocolate Clubs and Gift Baskets, TopConsumerReviews.com delivers in-depth product evaluations in order to make purchasing decisions easier.