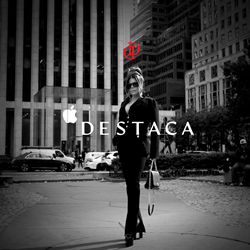 Above all, we engage and build trust with each client by being available to tend to them at any time and to any degree
MIAMI (PRWEB) November 11, 2022
Destaca Real Estate today announced its partnership with Side, the only real estate technology company that exclusively partners with high-performing agents, teams, and independent brokerages to transform them into market-leading boutique brands. The alliance will ensure that Destaca, a company whose service never sleeps, is powered by the industry's most advanced platform.
Destaca was founded by Lucrecia Arana Lindemann, a top-producing agent since her start in 1997. Lindemann says her Latina roots are her superpower in this high-paced industry, the red cape she rises and sets with daily. Lindemann has been climbing steadily toward her $200 million sales goal over the last 18 months, contributing to a jaw-dropping more than $2 billion in career sales that include several multimillion-dollar development sellouts in Miami and record-setting prices per square foot.
Headquartered in Miami, Destaca serves buyers and sellers from major U.S. cities such as New York, Chicago, and Los Angeles, coupled with a worldwide clientele. It is the only company that has taken luxury beyond the coastline by merging estate, condo, and yacht sales led by her partner and husband, Jeff Beird who has been leading the yachting industry for over 17 years. This merge of land and sea is what the was curated with Destaca Real Estate.
"My fiery Latina roots make me 'destacar' or 'stand out,' hence the name of my company," Lindemann said. "From service to results, Destaca performs to the maximum, but above all, we engage and build trust with each client by being available to tend to them at any time and to any degree. At this level of luxury, service is key, a full understanding of wants and needs."
Partnering with Side will ensure Destaca remains on the cutting edge of the evolving real estate market while continuing to deliver premium services to its clients. Side works behind the scenes, supporting Destaca with a one-of-a-kind brokerage platform that includes proprietary technology, transaction management, branding and marketing services, public relations, legal support, lead generation, vendor management, infrastructure solutions, and more. Additionally, Destaca will join an exclusive group of Side partners, tapping into an expansive network from coast to coast.
"Side's state-of-the-art marketing, technology, administrative, and legal solutions set up my business to flourish while freeing me up to do what I do best — collaborate, engage with my clients," Lindemann said.
About Destaca
Destaca is committed to service that never sleeps and results that never disappoint. Dynamic founder Lucrecia Arana Lindemann and her team of highly skilled specialists provide a one-stop shop for clients that promises never to settle for mediocrity. Destaca serves buyers and sellers across Florida, including but not limited to Miami, Palm Beach, and Orlando, and remains one of the only teams that has incorporated yacht sales & luxury charters into its offering to create customized solutions for clients who seek luxury at this level. For more information, visit http://www.destacarealestate.com.