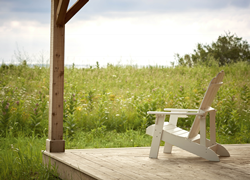 "We are pleased to add Lake and Pond to our collection of secluded, well-appointed cabins, joining Sandhill and Red Fox as year-round restorative retreats," says Christine Loose, Vice President Lodging and Wellness for Kohler Co.
KOHLER, Wis. (PRWEB) August 11, 2020
Destination Kohler, a leading golf and wellness destination in Kohler, Wisconsin, adds Lake and Pond to its popular and growing portfolio of private lodging offerings. The two new cabins are available Aug. 15, 2020 and are a 10-minute drive from the Forbes Five-Star, AAA Five-Diamond American Club resort-hotel, just south of Whistling Straits golf course (host of the Ryder Cup in September 2021).
"We are pleased to add Lake and Pond to our collection of secluded, well-appointed cabins, joining Sandhill and Red Fox as year-round restorative retreats," says Christine Loose, Vice President Lodging and Wellness for Kohler Co. "We continue to see an increase in demand for our private lodging options as travelers seek drive-time getaways that balance the charm of a natural setting with access to five-star amenities and gracious hospitality."
With awe-inspiring views of Lake Michigan, Lake comprises two bedrooms and two bathrooms, comfortably accommodating four guests. The airy, light oasis is influenced by its Midwestern lakeside setting with cottage chic décor, and eclectic tapestries and artwork atop white-washed wooden walls. Its red steel roof – the same as Sandhill – pops amongst the endless green fields that surround the property. Ideal for families and small groups, the cabin is set across 1,200-square feet and features a chef-inspired kitchen; a wood-burning fireplace; exquisite KOHLER bathing and showering products, including an Artist Editions bathroom sink illustrated with an intricate botanical study on the marble; and an idyllic wrap-around porch complete with a firepit.
With a rich and rustic, yet warm interior, Pond is inspired by its serene woodland location and accommodates four guests. Set over 1,200-square feet, the cabin features two bedrooms and two bathrooms, alongside a cozy kitchen and living space with a wood-burning fireplace and stove. Dappled light seeps through the picture frame windows and a spacious wooden porch wraps half-way around the shingled roof cabin, leading to walking paths out to the nearby pond and river.
The cabin experience at Destination Kohler encompasses four one-of-a-kind lodging offerings (Sandhill, Red Fox, Lake and Pond), which are thoughtfully located on the outskirts of the resort. Cabin guests are surrounded by nature and privacy, and can enjoy complimentary access to the resort's five-star amenities, including: Sports Core Health & Racquet Club and River Wildlife, a 500-acre wilderness preserve teeming with outdoor activities, including hiking trails, fishing on the Sheboygan River and other seasonal activities. Minutes from the cabins is Destination Kohler and its championship golf courses; 15 dining establishments; award-winning Kohler Waters Spa; and the boutique Shops at Woodlake Kohler, with Yoga on the Lake and BOLD CYCLE. Guests are encouraged to discover the nearby Kohler-Andrae State Park or the scenic King Beach in Sheboygan County by foot or all-terrain bicycles. The four guest cabins are dog-friendly and equipped with phone, cable television and high-speed internet.
Guests can reserve now for overnight stays beginning on August 15, 2020, by calling 800-344-2838, visiting http://www.DestinationKohler.com or emailing reservationsconcierge@kohler.com. Rates at Pond start at $1,324 (August-October) and $845 (November-April); rates at Lake start at $1,589 (August-October) and $1,009 (November-April). Minimum night stays apply, and rates are per night for one to four guests.
About Kohler Hospitality & Real Estate Group
The Kohler Co. Hospitality & Real Estate profile includes The American Club, boasting the first and only Forbes Five-Star hotel property in Wisconsin, and world-renowned championship golf courses Whistling Straits and Blackwolf Run. Its sister property, The Old Course Hotel, Golf Resort & Spa in the birthplace of golf, St Andrews, Scotland. It is recognized as one of the most luxurious resorts in the world. In 2017, Kohler Co. opened LODGE KOHLER in the heart of Titletown, in Green Bay, Wisconsin.
About Destination Kohler
Herb Kohler created Kohler Co.'s Hospitality & Real Estate Group with the reclamation of The American Club, the first and only Forbes Five-Star hotel in the Midwest, and then built world-renowned championship golf courses, The Straits and The Irish at Whistling Straits and The River and Meadow Valleys at Blackwolf Run. The resort is named one of the top three golf resorts in North America, by Golf Digest. Kohler Waters Spa is the only Forbes Five-Star spa in Wisconsin and one of 85 in the world. The resort features 15 dining establishments from the Four-Star Immigrant Restaurant to traditional pub fare of The Horse & Plow as well as River Wildlife. Herb Kohler believes River Wildlife, located in the forest and on the river, on an early Winnebago encampment, has the best country gourmet dining in the United States. The resort is located in the Village of Kohler, Wisconsin, one hour north of Milwaukee and two and a half hours north of Chicago.
COVID-19 Update
Destination Kohler is committed to the health and safety of our guests and associates. With safety as our top priority, we have enhanced our high standards of housekeeping and cleanliness throughout our businesses. We continue to monitor CDC recommendations and state protocols to ensure our guest and staff members safety.

Associate training and standard processes for health, hygiene and cleanliness
Enhanced cleaning protocols for social space and all functional areas, specifically focused on high-touch surfaces and using chemicals that are recommended by the CDC
Public spaces, such as the lobby, arranged to encourage and support appropriate social distancing as recommended by the CDC
Changes in breakfast offerings to guest preselection with room delivery of prepackaged items
Modified check-in and check-out processes to reduce guest and staff-member contact
Comprehensive hygiene and cleaning SOPs and training for all staff members
Sanitation stations available throughout the hotel
Guests are required to wear facial coverings or masks in all indoor public areas
For information on additional safety measures and what guests can expect, click here.