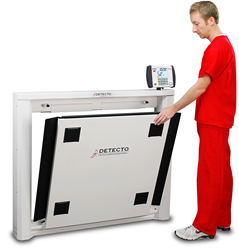 Detecto's USA-made 7550 wall-mount wheelchair scale features a unique fold-up storage design that saves space when not in use.
Webb City, MO (PRWEB) January 08, 2016
Space in healthcare environments is a precious commodity, and DETECTO's compact 7550 fold-up wheelchair scale addresses this issue with its innovative design allowing the scale to be folded away when not required, freeing up valuable floor space. Coming on the market one year ago, the 7550 scale has struck a chord with healthcare facilities throughout the world and has become a popular high-selling product for stationary wheelchair-bound patient weighing. The 7550KGEU version of the wheelchair scale is now OIML Class III certified for European clinical facilities.
Both quick and simple to install, the scale can also be easily removed to facilitate thorough cleaning of the healthcare facility. Safety is paramount, with minimal effort required to raise and lower the wheelchair platform thanks to its internal gas springs.
The 7550's weight indicator can store 99 individual tare weights enabling easy weight calculation. With the large and easy to position backlit LCD display, the patient weight and BMI calculations are always easy to read.
Measuring only 6.6 inches from the wall when folded, the low profile OIML Class III certified scale accurately weighs up to 1,000 lb/ 450 kg. The platform's low height of only 1.5 inches, and substantial footprint of 32.3 x 33 inches enables a variety of powered and non-powered wheelchairs to be accommodated.
The 7550's American-made MedVue® medical weight analyzer features a tilt-and-swivel mounting bracket, so the large LCD readouts may be positioned wherever it's easiest for the patient or nurse to read. Patient weight, height, and BMI are all displayed onscreen simultaneously in one scan of the eyes.
About DETECTO
DETECTO markets a complete line of quality weighing products for the healthcare, foodservice and shipping/logistics industries. DETECTO's headquarters and factory is in Webb City, Missouri, USA with warehouses in Canada and England and distributors in over 110 countries.
For further information please contact:
DETECTO
203 East Daugherty St.
Webb City, MO 64870 USA
(800) 641-2008
http://www.Detecto.com
detecto(at)cardet.com