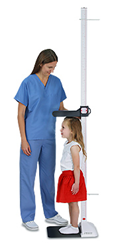 DETECTO's model PHR stadiometer features a unique flipping head piece that lets you add a DETECTO DR400C digital floor scale at the base to measure weight and height simultaneously.
Webb City, MO (PRWEB) November 10, 2015
DETECTO's unique PHR portable height rod is simple to use and easy to set up. There's no wall fastening necessary and it may be positioned against a wall or completely free standing. Two spacers provide additional stability when placed against a wall. The large floor plate ensures complete stability and permits the height rod to be used anywhere.
Adjusting the smooth-gliding measuring head piece is easy due to the non-warping plastic construction of the height rod. Measurements are readable from either side of the height rod in bold, clearly-visible numbering with bright-red pointer for optimal patient measurement.

Portable, Reliable Height Measurement Accuracy
4.5 in – 81 in / 11.5 cm – 205 cm Height Range
Works in Conjunction with DETECTO's DR400C Scale
From Pediatric to Adult Measurement
Height Rod Disassembles Easily into 4 Sections and Stores Conveniently with Head Piece and Base
The PHR may be used in conjunction with DETECTO's DR400C digital scale with 12 x 12-inch low-profile platform, 400 lb x 0.5 lb capacity, and one-inch-high LCD readouts. The DR400C scale is powered by 6 AA batteries, so using it together with the PHR height rod provides you with a portable patient measuring station.
Measures up to 6'9" / 205 cm
Two Stabilizers for Maximum Accuracy When Measuring Against a Wall
Durable and Lightweight All-Plastic Construction
Measures in Both Inches and Centimeters
Convenient and Easy to Transport
The PHR is ideal for use in:
School Health
Pediatricians
General Practitioners
Mobile Clinics
Visiting Nurses
Hospitals
Mobile Measurement Convenience at an Economical Price
DETECTO's model PHR stadiometer features a unique flipping head piece that lets you add a DETECTO DR400C digital floor scale at the base to measure weight and height simultaneously. If you use the PHR without a DR400C scale at the base, simply flip the head piece upside down to convert it for accurate height readings only. The head piece is sized exactly to compensate for the specific height of the scale platform when used with the DR400C low-profile scale.
The PHR's reversible head piece is manufactured exclusively for the DR400C scale. When used as a combo, DETECTO's PHR and DR400C provide you with a completely portable height and weight measurement station.
The measuring rod can be taken apart in just a few quick steps and conveniently carried anywhere in the optional carrying case with shoulder strap (model PHR-CASE). The carrying case is cleverly designed with internal pockets that secure the height rod column on one side and the DR400C digital scale and the rest of the stadiometer on the other side. Made of black ballistic nylon, the PHR-CASE features pockets fitted exactly for DETECTO's PHR and DR400C.
The carrying case is water and dust resistant providing tailor-made safe storage and compact transport capabilities for these measurement devices. The exclusive PHR-CASE is an indispensable accessory when you purchase DETECTO's PHR and DR400C.
Mobile Clinical Measurement
The collapsible height measuring rod of the stadiometer breaks down into four pieces, so in just a few steps it can be attached to the stable platform. When disassembled, the stadiometer is easy to transport.
The parts snap together perfectly for transport ease. Everything fits conveniently into DETECTO's optional PHR-CASE for mobile use.
All of these features make this stadiometer the ideal tool for anyone who needs a reliable measuring device for use at different locations.
Learn More:
http://www.detecto.com/cs_product/free-standing-portable-height-rod-mechanical
Contact:
DETECTO
203 East Daugherty St.
Webb City, MO 64870 USA
(800) 641-2008
http://www.Detecto.com
detecto(at)cardet(dot)com